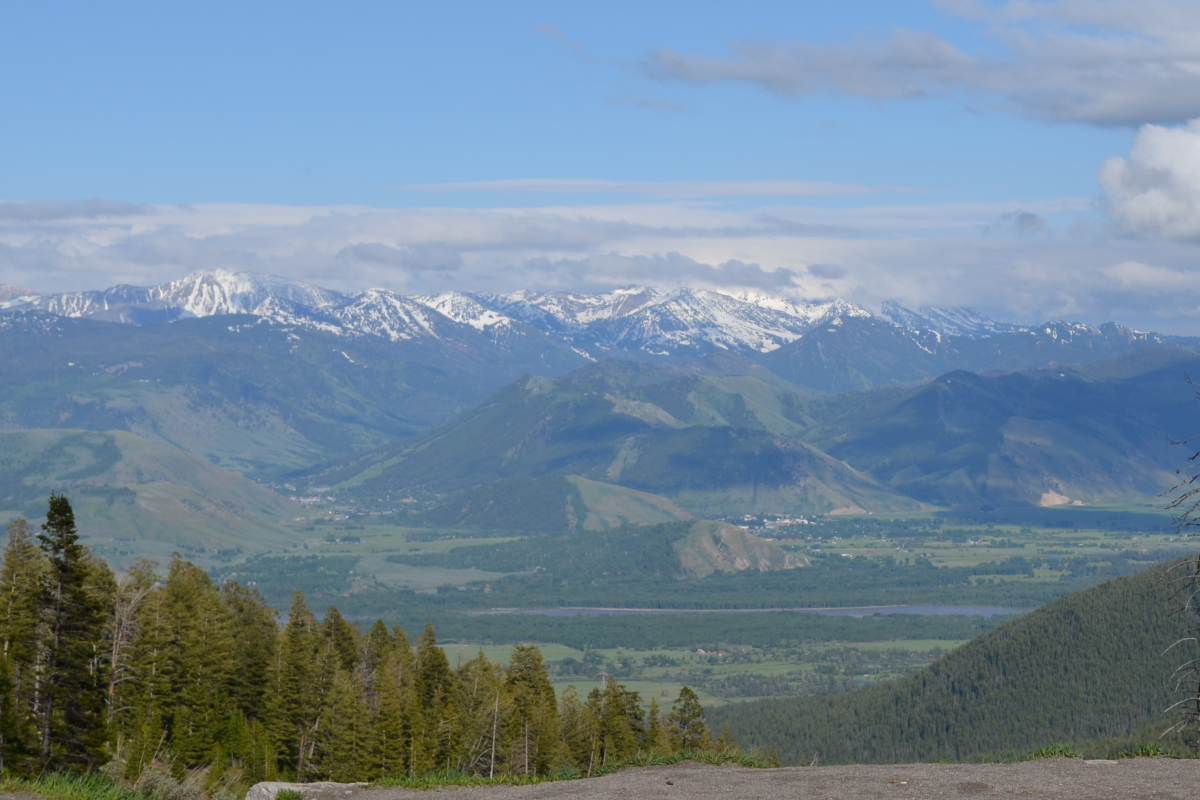 NOVEMBER 8, 2018
Last Revised: NOVEMBER 9, 2018
Every travel blog seems to have lists. Some lists are pure fluff. Some lists are made simply to stir discussion. Many lists are thrown together by sampling old content to quickly produce 'new' content. And some lists are thoughtfully put together. No matter which category a list falls under, we find that a list can quickly build a narrative about the blog (or blogger). A list can often paint a broad picture of the interests and opinions much better than a thorough article on a single topic. For that reason, our first topical article is a list.
Before we get to the list, we'll include the following disclaimer: This list is unsponsored; no tourism board, chamber or business sponsored any travel mentioned in this article. That said, this list is highly unscientific. We visited three of the regions this past summer (2018) and two of them were visited this past Christmas season (2017), so recent impressions likely have had an impact. As long as we continue to travel, this list will likely change. We plan to leave this original post up even if we revisit the list because we'll be just as interested as our audience at how our preferences change. Also, this is a list, so it is light on detail. We plan to cover each of these regions in greater detail in future articles. Without further ado, here's a list of our favorite destinations - so far.
Atlantic Canada:
Pater visited Atlantic Canada (and Quebec) on a quick five-day road trip when he was a teenager. The Bay of Fundy and Prince Edward Island (PEI) made an indelible impression and he had wanted to share his experience of Atlantic Canada with the family. In 2017, Pater took Mater and Soror. A majority of the ten day trip was spent in Nova Scotia because of the family's ties to the Acadians. Mater and the Millennials have Acadian heritage through Cajun members of their family tree, while Pater grew up in the Acadiana region of Southern Louisiana.
The family trip rolled into New Brunswick (NB) for three days along the Bay of Fundy where the extreme tides were experienced. Moncton was only an overnight stop, but after finding it is thriving, we came away wanting to spend more time there. Then we headed to Prince Edward Island (PEI) for the day. The weather for the day on PEI was postcard-perfect. We only explored the central portion of the island with most of the time spent in the Green Gables Shore region and again came away wanting to spend more time in Charlottetown and further explore the island.
We then spent the rest of the trip in Nova Scotia. We were first based out of Halifax while we explored the South Shore, Yarmouth & Acadian Shores, and Annapolis Valley regions. Then we continued to Cape Breton Island for the final days of the trip. We again found we wanted more time in each location, but we had to head home. We overwhelmingly came away with a desire to go back to the region and take more time with the destinations that we visited and go explore ones we haven't seen yet. The icing on the cake was that the weather was so nice and comfortable when we visited in July as opposed to the sauna that is Louisiana at that time of year.
Black Hills:
When we planned a trip out to Yellowstone, we included the Black Hills so that we could visit Mt. Rushmore. Then we started researching and discovering more and more. Now after two visits we've taken in Mount Rushmore, Badlands National Park, Minuteman Missile National Historic Site, Wall Drug, Jewel Cave National Monument, Wind Cave National Park, Needles Highway, Iron Mountain Road, Custer State Park, Spearfish Canyon, D.C. Booth Historic National Fish Hatchery, and Deadwood. And we didn't even talk about the prairie dogs. Even with all that, there's more to still explore as well as a desire to revisit many of the destinations listed. The only drawback is that the Black Hills area can be pretty warm in the summer and also have some pretty nasty thunderstorms.
Carson Valley, Nevada:
Unlike the other regions on this list, Carson Valley is likely an unknown. A family relative tipped us off to the valley. How he discovered it, we still haven't quite figured out, but we're glad he did. Carson Valley is located less than an hour south of Reno, Nevada. Carson City, the history-rich capital of Nevada, lies just to the north of the valley. Carson Valley also lies at the foot of the Sierra Nevada Mountains. Taking the Kingsbury Grade from Carson Valley up through Daggett Pass leads to South Lake Tahoe, California in about thirty minutes. The San Francisco Bay Area is about four hours away. In the summer when Tioga Pass is open, Yosemite Valley is also about four hours away.
That said, when we venture out of the valley, it's usually up to Virginia City about forty-five minutes away with its rich mining history. Back in the valley, Gardnerville, Genoa, Minden, Mottsville and Sheridan all have plenty of history to explore. But what we usually find ourselves doing is taking in the views and enjoying the weather. The climate is high desert so rainy days are rare. Even if it's hot during the day, the evenings are comfortably cool. The valley is surrounded by mountains on three sides with the sun setting behind the Sierra Nevadas. In addition to the views from the Kingsbury Grade, Foothill Road winds along the western edge of the valley with historical markers and views of the valley below.
Great Smoky Mountains:
Most of our early travels took us up the eastern seaboard to visit relatives in New England. Our chosen route followed the Appalachian Mountains rather than the more coastal, urban and heavily travelled route on I-95. This brought us close to the Great Smoky Mountains. Eventually, we made side trips into the area and found it to be as charming as described. The Cades Cove area of the park is our favorite.
We've now taken a few trips specifically to the area either staying outside the Sevierville-Pigeon Forge area in vacation cabins for a few days or outside Asheville in a mixed development. Either location has enough amenities to keep the family occupied when the weather curtails outdoor activities. The Sevierville-Pigeon Forge-Gatlinburg area has plenty of tourist activities like shopping; amusement parks (including Dollywood); dinner theaters; and even an aquarium, so there's a variety of options for all ages.
Though we tend to stay in the Gatlinburg area when visiting, we've also crossed over Newfound Gap to the North Carolina side of the park and surroundings where we explored the Deep Creek area as well as the Eastern Cherokee Reservation. This area is not so heavily visited and has a different vibe than the Tennessee side. Also, more of the Foothills Parkway on the northern side of the park has recently opened after decades of slow progress. In addition, Knoxville, Tennessee and Asheville, North Carolina are each approximately an hour away from the park adding some nearby urban options to a visit.
Yellowstone National Park/Grand Teton National Park/Jackson Hole:
What can we say? We like Yellowstone too. But it's not just about Yellowstone. We enjoyed our first drive to the park down Paradise Valley to Gardiner. We enjoyed the drive over the Bighorn Mountains to Cody. On our way to our second visit, we really enjoyed the drive on the Beartooth Highway and into Lamar Valley. Being from Louisiana, experiencing snow on the roads' highest elevations in early summer is a sight that we never get used to. Which leads into another draw for the family - the weather. It is such a welcome change of pace that it's cold enough that we have to monitor for snowfall and road conditions on the high passes even after they have been cleared of the winter snow.
Once Yellowstone proper is reached, the Grand Loop itself has geysers, mud pots, hot springs, rivers, waterfalls, and a lake - not to mention the wildlife. Mater is happy if she sees bison, grizzlies and moose, which isn't such a tall order in Yellowstone. Soror, however, won't be completely satisfied until she finally glimpses a wolf or two, while Pater would like to see a bald eagle in the wild. Frater is satisfied with spotting almost any kind of wildlife while on a good scenic hike.
While the rest of the family prefers Yellowstone thanks to the plethora of wildlife they've seen there, Pater is actually partial to the Grand Teton National Park and Jackson Hole because of the stunning views of the Tetons from the valley. That said, he has gained more appreciation for Yellowstone after the family's second visit to the area. Or perhaps he's gained more tolerance for the tour groups that tend to either clog up the boardwalks or cut in and out as if on a busy subway. The family has stayed in Canyon Village, Old Faithful and Flagg Ranch lodging to stage within the park, save travel time and get a jump on the crowds in Yellowstone. The city of Jackson has also served as a good staging area for the Tetons and even southern parts of Yellowstone. It's also where one can find some activities to fill an evening.
New England:
While the other four destinations are largely about wide open spaces and spectacular views, New England has more history - at least of the European-American kind. New England also has mountains, coasts and urban centers full of human history compressed into a relatively small area. Because of its proximity to New England, Atlantic Canada does have a number of similarities with weather and geography. However, because it's a different country, the culture and history is different and that region feels much more rural as even the 'big city' of Halifax barely feels like one. New England's history includes roots of American independence.
New England has several heavily urban areas where one can choose to stay in a full-service hotel and only walk or use public transportation. Or one can stay beach-side choosing from a variety of accommodations. Or one can choose from the Massachusetts Berkshire Mountains, the New Hampshire White Mountains, Vermont Green Mountains or Maine's Baxter State Park with Mt. Katahdin and the end of the Appalachian Trail. And most of these choices are no more than half a day's drive apart. New England also has four seasons - unlike Louisiana - so the same places can be completely different experiences depending on the time of the year.
Honorable Mention: Pennsylvania Dutch Country:
The Pennsylvania Dutch Country region lies just southeast of the state capital of Harrisburg. The region features the Amish, who resist modern technology although they have made concessions, and their craftsmanship. Hershey with both the candy company and amusement park, the York factory region, the Gettysburg battlefield, Philadelphia and Baltimore, Maryland, are all less than two hours away from the region, while the Pocono Mountains, New York City and Washington, DC, are all less than three hours away so the region also acts as a nice location from which to stage.
Honorable Mention: Gulf Coast:
So we sat down to make a list of our favorite destinations and came up with five. What you won't see on this list is the Gulf Coast. Since the region is only a few hours away from home, we have frequently visited. Because of its proximity, we typically visit for a weekend with our longest visit being four days. Also, being so close to our home in Southern Louisiana, the weather is usually similar and not a drastic contrast to our own, which means warm and humid. Because of that similarity in weather, our family has started to gravitate towards drier mountain climates as a break from the hot and humid climate of home.
On our visits to the Gulf Coast, we've visited Biloxi, Dauphin Island, Pensacola Beach, Destin and Panama City Beach and enjoyed each. Biloxi has casinos which offer a variety of concerts and entertainment. Dauphin Island is completely different from the other four spots in that it is isolated, very quiet and retained more of a community feel rather than a tourist destination like the other four. Pensacola Beach has the National Seashore and the nearby naval base with air museum. Destin and Panama City Beach are more heavily tourist-oriented with attractions and shopping to occupy when not on the beach.
Wrapping up:
The takeaways from this list are threefold. We like regions with comfortable summer weather and/or actually have four seasons, which means cooler and less humid summer weather or actual winter conditions around Christmastime. We like scenic destinations. There may be urban areas within or near the region where we can easily access modern conveniences, but the open spaces are where we spend most of our vacation time. We like destinations with a variety of options of how we spend our time, because we do like to slow down and recharge on our vacations.