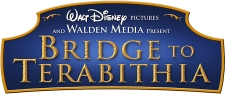 More than 30 years ago, Katherine Paterson was inspired to write the Newbery Award-winning novel
Bridge the Terabithia
novel for her son David. The film based on that book recounts the heartwarming tale of kids who stumble upon the fantasy kingdom Terabithia, where they face the challenges of childhood and learn that friendship is life's one true reward. Jess Aarons, a shy, artistic 5th grade boy, is the fastest runner in school until new girl in town, outgoing Leslie Burke busts Jess's speed record. The two eventually form a friendship over their love of storytelling and discover that the make-believe world they created has come to live in a secret forest. Their adventures in Terabithia, where they are crowned king and queen, help them face the challenges of growing up.
Bridge to Terabithia Main Cast List

Actor:
Character:
Josh Hutcherson
AnnaSophia Robb
Zooey Deschanel
Robert Patrick
Bailee Madison
Kate Butler
Latham Gaines
Judy McIntosh
Lauren Clinton
... Jesse Aarons
... Leslie Burke
... Ms. Edmonds
... Jesse Aarons Sr.
... May Belle Aarons
... Nancy Aarons
... Bill Burke
... Judy Burke
... Janice Avery
Bridge to Terabithia IMDB Listing
PatriotResource.com Review:
First off, we have to say that even though this film is aimed at children, parents should check into the film first because of the fate of one of the main characters. That said, we screened the film with our children and by the end of the film they seemed much less affected than the adults were.
The film is told from the perspective of ten-year old Jesse, who is starting 5th grade. The film establishes that Jesse has a number of sisters, although only his younger sister is given any screen time. His father is hard-working, but the family is poor, which stereotypically means that he'll be an outcast at school. Thrown in for good measure is an 8th grade bullying girl and that Jesse has a crush on his music teacher. Jesse's one outlet is his drawing.
Jesse's rather gray, but settled world is turned upside down by a new girl, Leslie, who happens to have moved in next door to Jesse. She immediately sets out to become friends with Jesse alone for some unexplained reason. He eventually relents and they turn out to be kindred spirits having a series of adventures until something tragic happens to her. The last portion of the film focuses on how he deals with what happened. This is where the film has its poignancy and gets very serious and somewhat sad.
The film has surprisingly little depth to the characters. The filmmakers seem to intend the lack of depth will be largely filled in by the audience's own personal experiences or perhaps the audience's familiarity with the book. Otherwise, Jess' family, his classmates and the bullying girl are one-dimensional except for a couple of scenes with his father and one moment of insight concerning the bully. The imaginary world of Terabithia is brought to life a few times, but it's all too brief. This is probably intentional since the emphasis is on the "real world." The film is best served as a companion to the book rather than a substitute for it.
The DVD:
One note is that the creatures of Terabithia are detailed, but much of that detail is lost on a small screen. Otherwise, the DVD looks good. There are a few DVD extras. One is mainly concerned with the book on which the film was based, which actually delved into some of the depth of characters that was missing in the film. The other was an all-too-brief featurette on the special effects, which were done by WETA (
The Lord of the Rings
). There are also two feature length audio commentaries: one with the director and writer and the other with the two lead actors.
---

Bridge to Terabithia DVD Extras:
— "Behind The Book: The Themes Of Bridge to Terabithia" [14:25]
— "Digital Imagination: Bringing Terabithia to Life" - Special Effect Featurette [5:50]
— Optional Feature Length Audio Commentary with Director Gabor Csupo,
Writer Jeff Stockwell and Producer Hal Lieberman
— Optional Feature Length Audio Commentary with Josh Hutcherson,
AnnaSophia Robb and Producer Lauren Levine
Buy Bridge to Terabithia DVD Now!


---
PatriotResource.com original content and design Copyright © 1999- Scott Cummings, All Rights Reserved.
Privacy Statement
.