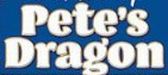 Pete's Dragon
From Walt Disney Home Entertainment:
Pete's Dragon
is an uplifting musical adventure about a spunky young orphan that blends live action and stellar Disney animation. With his only friend Elliot, a tubby, 12-foot tall dragon who can make himself invisible, Pete (Sean Marshall) takes refuge from his abusive adoptive family in the seaside town of Passamaquoddy, Maine. After Elliot's invisible antics wreak havoc with the residents and Pete gets the blame, Nora (Helen Reedy) is touched by the youngster's plight and takes him to live with her and her tippling father Lampie (Mickey Rooney) in the Passamaquoddy Point lighthouse. Lampie's tipsy tales of the boy and his dragon amuse the disbelieving townsfolk, until the local quack, Dr. Terminus, discovers that Elliot is real and hatches a scheme to capture the dragon. An exciting and inspiring story with unforgettable music, including the Academy Award nominated "Candle on the Water," "There's Room for Everyone" and "Brazzle Dazzle Day,"
Pete's Dragon Cast List
Helen Reddy
Jim Dale
Mickey Rooney
Red Buttons
Shelley Winters
Sean Marshall
Jim Backus
Charles Tyner
Cal Bartlett
Charlie Callas
... Nora
... Dr. Terminus
... Lampie
... Hoagy
... Lena Gogan
... Pete
... The Mayor
... Merle
... Paul
... Elliott (voice)
Pete's Dragon IMDB Listing
PatriotResource.com Review:
We fondly remembered
Pete's Dragon
from our childhood, so we were looking forward to its rerelease on DVD. However, rewatching the film as an adult, we now see why
Pete's Dragon
is not one of the classics. Though the visual effects of the live-action interactions with the animated Pete still hold amazingly well today, the film's plot drags. Each of the film's blow-out musical numbers are literally showstoppers bringing the proceedings to a halt. The film does give its cast featuring Mickey Rooney, Red Buttons, Helen Reddy, Shelley Winters and Jim Dale plenty of chances to shine. The film's pacing just seemed quite slow. It's still an adorable film that child can enjoy, especially when compared to the "edgier" children's fare prevalent today. One big plus to the DVD is the number of extras included in the release.
---

Pete's Dragon: High Flying Edition DVD Extras:
- Brazzle Dazzle Effects: Disney's Movie Magic: A look at Disney's pioneering work in the magical mix
of live-action and animation, narrated by the star of Pete's Dragon, Sean Marshall.
- Deleted Storyboard Sequence: "Terminus & Hoagy Hunt Elliot"
- Original Song Concept: "Boo Bop Bopbop Bop (I Love You, Too)": The first demo recording for one of the film's unforgettable musical sequences with story sketches for an early concept of the song Pete sings to Elliot.
- Original Demo Recordings (Audio Only): Early demo versions of "Brazzle Dazzle Day" and "Every Little Piece." Also includes "The Greatest Star of All," a song to be sung by Ferdinand, a character later deleted from the film.
- Promotional Record (Audio Only): Pop versions of "It's Not Easy," "Brazzle Dazzle Day," "There's Room For Everyone" and Academy Award nominee for Best Song, "Candle On The Water," originally released on a 7" record.
- The Plausible Impossible: Disney excerpt featuring Walt Disney
- Lighthouse Keeping: Clip about the responsibilities of lighthouse keeping
- Pete's Dragon Art Galleries
- Publicity
- Trailers
- About Pete's Dragon
- Disney Family Album
Buy the Pete's Dragon High Flying Edition DVD


---
PatriotResource.com original content and design Copyright © 1999- Scott Cummings, All Rights Reserved.
Privacy Statement
.