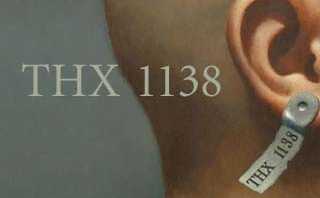 Starring Robert Duvall and Donald Pleasence,
THX 1138
leads viewers into a 25th-century totalitarian state where citizens are stripped of individuality and become numbered drones, controlled by a government-enforced program of sedating drugs. THX 1138 (Duvall) is a factory worker whose life is irrevocably changed when his roommate, LUH 3417 (Maggie McOmie), causes them both to stop taking their drugs.
Their feelings begin to awaken and lead to a forbidden love affair. The state discovers the illegal coupling and drug evasion and separates THX and LUH. But THX is determined to flee his wall-less prison and discover LUH's fate. To do so, he must avoid the robotic police force and unknown dangers of the outside world. Pleasence co-stars as SEN 5241, who makes the perilous journey with THX.
Click below for more information:
-
Cast List
-
Characters
-
Crew List
-
DVD Details
: Two-Disc Director's Cut Special Edition DVD
-
Review
PatriotResource.com original content and design Copyright © 1999- Scott Cummings, All Rights Reserved.
Privacy Statement
.