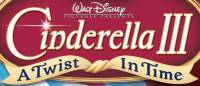 Cinderella 3: A Twist In Time
Description from Walt Disney Home Entertainment:
The story starts one year after Cinderella and Prince Charming have been happily married, when the evil Stepmother steals the Fairy Godmother's wand! In her very wrong hands, the Stepmother turns back time, and transforms the glass slipper so that it fits her jealous daughter Anastasia instead. It's up to Cinderella and her friends to un-do the Stepmother's plans and get things back as they should be. In this all-new movie. Cinderella is joined by the delightful mice duo Gus and Jaq. Lady Tremaine the evil Stepmother once again menaces Cinderella, accompanied by her deliciously horrible daughters Anastasia and Drizella and their wicked cat Lucifer. Prince Charming returns with the King, and the Grand Duke, and of course there is the beloved Fairy Godmother.
Buy the Cinderella 3 DVD Now!
Cinderella 2: Dreams Come True
Description from Walt Disney Home Entertainment:
The magical story of Cinderella continues in an all-new movie brimming with irresistible music, lush animation and all your favorite characters from the original Disney classic. When Cinderella and her prince return to the palace from their honeymoon, the new princess suddenly finds herself cast in the role of Royal Hostess. But the traditional rules of the Royal Court don't allow her to entertain in her own warm and wonderful way. With the help of everyone's favorite Fairy Godmother and a band of mischievous mice, Cinderella and her friends find that the only true way to succeed is to be yourself. You'll find dreams really do come true in the enchanting tale of
Cinderella II
.
Buy the Cinderella 2 DVD Now!
Cinderella
Description from Walt Disney Home Entertainment:
The beloved fairy tale becomes pure Disney magic as beautiful Cinderella shares her dreams of romance and a better life with the lovable mice Gus and Jaq. When Cinderella's cruel stepmother prevents her from attending the Royal Ball, the delightful Fairy Godmother appears! With a wave of her wondrous wand and a bouncy "Bibbidi-Bobbidi-Boo," the Fairy Godmother transforms a simple pumpkin into a magical coach -- and Cinderella's rags into a gorgeous gown. At the ball, Cinderella falls in love with Prince Charming, but must flee before the stroke of midnight breaks the spell!
Buy the Cinderella DVD Now!
Animated Films Items Available at eBay - Scroll for additional items
PatriotResource.com original content and design Copyright © 1999- Scott Cummings, All Rights Reserved.
Privacy Statement
.
Available at Amazon.com


Cinderella 3 DVD
---

Cinderella 2 DVD
---

Cinderella DVD (2-disc)
---