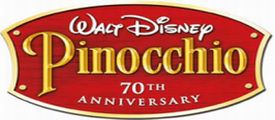 From Walt Disney Home Entertainment:
Walt Disney's delightful animated classic, "Pinocchio" has been entertaining and enchanting moviegoers of all ages for 70 years. This magical film transports audiences to a wondrous fantasy world where puppets come to life, crickets talk and, under the right circumstances, wishing upon a star can make dreams come true.
At the time of its initial release in 1940, the film broke new ground for the art of animation and established a level of excellence in artistry and storytelling which remains the standard even today. With its incredible detail, imaginative design, lavish colors, pioneering special effects, Academy Award-winning score and song ("When You Wish Upon A Star") and heartfelt animated characters, PINOCCHIO represents a milestone in animation and continues as an inspiration to generations of filmmakers to follow. It took more than 750 artists, 80 musicians, 1500 shades of color and one million drawings to bring this ambitious film to the screen.
Click below for more information on Pinocchio:
- Background
- Innovations & Origins of Pinocchio
- Design & Animation
- Voice of Pinocchio & The Music
Pinocchio Voice Cast List
Dickie Jones
Christian Rub
Cliff Edwards
Mel Blanc
Don Brodie Walter Catlett
Marion Darlington
Frankie Darro
Charles Judels
Jack Mercer
Patricia Page
Evelyn Venable
... Alexander/Pinocchio
... Geppetto
... Jiminy Cricket
... Cleo/Figaro/Gideon
... Carnival Barker
... Honest John
... Lampwick
... The Coachman/Stromboli
... Carnival Barker
... Marionettes
... The Blue Fairy
Pinocchio IMDB Listing
PatriotResource.com Review:
It may be surprising to learn that
Pinocchio
was a box office failure when premiered in 1940 as Disney's sophomore effort following
Snow White and the Seven Dwarves
. Subsequent re-releases have cemented it as a box office as well as critical success. The story here is layered in a way that is missing from even other Disney classics. Children will see basic morals of humanity through the series of adventures that Pinocchio experiences. The moral consequences are clearly visualized such as how Pinocchio's nose grows when he doesn't tell the truth. Meanwhile, adults can follow the more complex question of what it means to be human.
Pinocchio
has the three memorable characters of Pinocchio, Geppetto and Jiminy Cricket as well as "colorful" supporting characters like "Honest John." The music is topped off with the now universally known "When You Wish Upon a Star" and the animation is meticulous and layered as can be expected from Disney animated films.
Pinocchio
is an excellent family film.
The DVD:
The
Pinocchio
Platinum Edition follows the Fall 2008 release of
Sleeping Beauty
as the second Blu-ray release of its animated classics and as with
Sleeping Beauty
, Disney again includes a standard DVD edition of film with the Blu-ray release. The
Pinocchio
Platinum Edition is filled with now-familiar extras such as an "all-new" music video from some young Disney Channel talent. In this case, "When You Wish Upon a Star" gets the treatment. Other extras on the first disc include the now standard song selection and pop-up fact track. Lastly, but mostly importantly (for the first disc at least) is an audio commentary track with film critic/historian Leonard Maltin, Disney animator Eric Goldberg and historian J. B. Kaufman.
The second disc features the usual breakdown of features geared towards adults and children. Although in this case, it's heavily geared toward adults, probably owing to the fact that this is Disney's second oldest animated film. Though there are a number of extras, the age of the film likely impacted the depth of material. Aside from the making-of featurette, there are two deleted scenes, a deleted song and an alternate ending included. There is a featurette about the "Sweat Box," which played a key role in the development process of various films. There is a single multi-level game included for the kids.
The Blu-ray edition includes all the S-DVD extras as well as the standard BD-live, the Cine-Explore feature and two more games (one being an interactive trivia game). Also, there is something new called Disney View in which they've attempted to move beyond the original aspect ratio with new imagery to fill out the widescreen aspect ratio with some type of colorful border instead of just black edges. It's an interesting idea, but it remains to be seen if it'll catch on and become a regular extra.
---
Pinocchio Platinum Edition DVD Extras:
Disc 1:
—
Backstage Disney: Audio Commentary with Leonard Maltin, Eric Goldberg and J. B. Kaufman
—
Backstage Disney: Pinocchio's Matter of Facts
—
Music & More: "When You Wish Upon a Star" Music Video
[~3:00] - Meaghan Jette Martin (Camp Rock)
—
Music & More: Disney Song Selection
Disc 2:
—
Backstage Disney - No Strings Attached: The Making of Pinocchio
[~55:00] - Witness the behind-the scenes magic that transformed Carlo Collodi's popular book into a classic animated film.
—
Backstage Disney - Deleted Scene: The Story of the Grandfather Tree
- Kindly Geppetto tells Pinocchio about the Great Pine Tree from which Pinocchio is descended.
—
Backstage Disney - Deleted Scene: In the Belly of the Whale
- The most elaborate of Pinocchio's deleted scenes that remain in the Disney Archives, these recently discovered storyboards reveal a different version of Geppetto inside Monstro.
—
Backstage Disney - Deleted Song - "Honest John"
[~3:00]
—
Backstage Disney: Alternate Ending
- A recently uncovered set of small storyboard panels reveal plans for a different version of Pinocchio becoming a real boy.
—
Backstage Disney: The Sweat Box
[~6:00] - The Sweatbox was a small projection room at the Disney studio where Walt critiqued story reels, rough animation, and dailies of films in progress with his anxious artists. This piece traces the history of the Sweatbox and brings to life this important part of Walt Disney's artistic process.
—
Backstage Disney: Geppettos Then and Now
[~10:00] - A look at the art of toymaking as it has evolved into the 21st Century.
—
Backstage Disney: Live Action Reference Footage
[~10:00]
—
Backstage Disney: Art Galleries
—
Backstage Disney: Trailers
—
Games & Activities: Pinocchio's Puzzles
- Hosted by Jiminy Cricket, Pinocchio's Puzzles is a multi-tiered Puzzle game that contains six unique wooden puzzles for the viewer to assemble. Each puzzle forms an image from the film that comes to life once they are complete.
Buy the Pinocchio 70th Anniversary 2-disc Platinum Edition DVD Now!
Pinocchio Platinum Edition Blu-ray 2-Disc DVD Extras:
—
Bonus Disc with Standard Definition DVD version of the film
—
All the DVD Extras
—
Cine-Explore:
Picture-in-Picture with commentary by Leonard Maltin, Eric Goldberg and J. B. Kaufman
—
Disney BD-Live Network: Movie Chat, Movie Mail, Movie Challenge, Disney Movie Rewards Live
—
Disney View
: A new viewing experience for future generations of home audiences, Disney View brings classic Disney films to the modern era of widescreen high definition viewing by allowing the user to expand their viewing experience beyond the original aspect ratio of the film. Utilizing Disney Blu-ray technology, artists are able to 'draw' beyond the borders of classic full frame cinema and fill the otherwise dark edges of the screen with beautiful original imagery, giving audiences a new view on their animated classic favorites. Legendary artist Toby Bluth is the first artist's work to be featured on Disney View.
—
Pinocchio Knows Trivia Challenge
: 1 to 4-player trivia game that can be played locally or online with your friends. Try to be the first to shrink Pinocchio's nose by answering challenging questions while watching the film.
—
Pleasure Island Carnival Games
: Best the Evil Coachmen at four challenging Carnival games to earn your freedom and escape Pleasure Island.
Buy the Pinocchio 70th Anniversary Blu-ray Platinum Edition DVD Now!
---
Animated Films Items Available at eBay - Scroll for additional items
PatriotResource.com original content and design Copyright © 1999- Scott Cummings, All Rights Reserved.
Privacy Statement
.