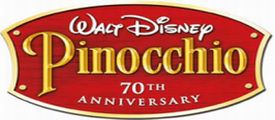 Voice of Pinocchio & The Music
From Walt Disney Home Entertainment:
RICHARD JONES: THE VOICE OF PINOCCHIO
During the course of a successful acting career that spanned 27 years, Richard Jones got to work with some of the greatest talents the movie industry has ever produced. Yet, it was his assignment as the voice of a puppet in a 1940 animated feature that perhaps gave him the most pleasure and the one for which he is likely to be best remembered. At the age of 12, with five years acting experience under his belt and nearly 40 feature credits, Jones remembers auditioning with hundreds of other hopefuls for the part of Pinocchio.
"It was like an audition for a radio show," recalls Jones, "We were given scripts and told what they wanted and then we simply read the dialogue. After several call-backs, Walt Disney took my mother and me to lunch and asked, 'How would you like to do the voice of Pinocchio?'" Jones wasted no time in answering in the affirmative.
Jones was put under contract to Disney for the next two years, during which time he also appeared in films for other studios. His duties on PINOCCHIO included recording sessions and some live action shoots. "The story was pretty well set when we started recording, but they conjured up additional dialogue as we went along," says Jones. "We never saw a full script. They'd just show us the storyboards and go with what they wanted that day, not necessarily in order at all. For the 'Hi-Diddle-Dee-Dee' sequence they dressed us in costumes and photographed us with a 35mm camera so they could study the movement for animation. It was a choreographed dance routine like Dorothy setting off on her trip down the yellow brick road." Jones also recalls other recording sessions where he was dressed blue short pants, suspenders, a white shirt with a fluffy collar and a cap with a feather, to help him get into the role better.
The toughest thing Jones was called upon to do during his entire stint at Disney was to record Pinocchio's underwater dialogue as he searches for Geppetto. Delivering his lines with a mouth full of water failed to produce the desired effect so the next attempt was to put him on his back and our water into his mouth. "That was even more disastrous," says Jones. "Finally the technicians rigged up a contraption where I spoke into a megaphone that was run through a container of agitated water. That did the job."
Born in Snyder, Texas Jones got his start in entertainment as a rodeo and circus stunt performer at an early age. By the time he was five, he was being billed as 'The World's Youngest Trick Rider and Roper." In 1932, at the Dallas Centennial Rodeo, he met Cowboy star Hoot Gibson, who convinced him that his future was in Hollywood.
In Hollywood, Jones became one of the most active child stars of the day and played probably more star-as-child roles than anyone in the business. His first feature film role was as an angel opposite Al Jolson and Ruby Keeler in "Wonder Bar" (1934). He went on to appear in such other motion pictures as "Stella Dallas," "Destry Rides Again," "Young Mr. Lincoln," "Virginia City," "Mr. Smith Goes to Washington," "The Howards of Virginia," "Heaven Can Wait," "The Adventures of Mark Twain" (in which he played young Samuel Clemens), etc., Jones starred opposite Gene Autry in "Strawberry Roan" (1948) and began a working relationship with the popular cowboy star that included six other films and several TV shows. In 1950, Autry signed him to co-star with Jocko Mahoney in the series, "Range Rider," which was followed by a starring role in another series, "Buffalo Bill Jr." Jones made over 200 TV appearances all together.
Among his other show business credits, the actor also provided the voice of He3nry Aldrich for two and a half years on the popular weekly radio show "the Aldrich Family." He was honored with his own star on the Hollywood Walk of Fame and, several years ago, received a "Golden Boot Award" for his extensive work in westerns.
By 1959, Jones decided to hand up his saddle and turn his attention to a career in banking and real estate. Specializing in commercial appraisals and loans, he found great success in his new venture and served for many years as a senior executive with a national lending institution up until his retirement several years ago. Today, Jones prefers to spend most of his time on fishing expeditions. He and his wife, Betty, reside in the San Fernando Valley and spend time with their four children and many grandchildren.
THE MUSIC
PINOCCHIO won Academy Awards for Best Original Score and Best Song ("When You Wish Upon A Star"). The score, which includes five original songs, was created by prolific Disney composer Leigh Harline (with lyrics by Ned Washington). Paul J. Smith also contributed to writing the musical score. Ranging from the sophisticated harmonies of the ballad-like "When You Wish Upon A Star" to such jaunty up-tempo numbers as "I've Got No Strings," Harline captured the major story points in his music while highlighting the fantasy element throughout.
Aware of the integral part his songs and score had to play in PINOCCHIO, Harline began work on his musical compositions during the earliest phases of production and was intimately involved in all aspects of the creative process. He knew that the songs had to enhance the action or they would slow down the tempo of the time and get lost in the shuffle.
The first tune Harline wrote was "When You Wish Upon A Star," which is sung in the film by Jiminy Cricket. This beautiful song not only set the theme of the film, but also served to introduce one of the major characters. It also provided a reoccurring melody and unify element for the rest of the film. This number has since become a world-famous Disney theme.
"Little Wooden head," sung by Geppetto, gives insights into the kindly old woodcarver and establishes his relationship to the puppet and his pets, Figaro and Cleo. The next song, "Give A Little Whistle," is tailor-made for the crooning cricket, Jiminy, and allows him to strut his stuff while expounding on his duties as Pinocchio's conscience.
Pinocchio himself gets to demonstrate his singing abilities on two occasions with the songs, "Hi-Diddle-Dee-Dee" and "I've Got Not Strings." On the former tune, he is joined by J. Worthington Foulfellow, his bogus benefactor who convinces him that an "actor's life" is the only way to go. The joy and jubilance of the latter song provides a sharp and ironic contrast to the misery that his life in "show business" has brought him.
Composer Paul Smith, in a magazine interview, expressed his philosophy about the use of recurring musical themes this way: "The star song is sung but twice in the picture, but it appears) in free variation, parallel chords, and so on) in every sequence where Jiminy and the Fairy combine their powers in working out Pinocchio's destiny. The development of these variations of the theme requires the most detailed care. The spectator must be aware of the theme and of its slightly altered form, but neither theme nor variation may at any time rise to the point of occupying his conscious attention."
Buy the Pinocchio 70th Anniversary Platinum Edition NOW!
2-disc DVD OR 2-disc Blu-ray
---
Animated Films Items Available at eBay - Scroll for additional items
PatriotResource.com original content and design Copyright © 1999- Scott Cummings, All Rights Reserved.
Privacy Statement
.