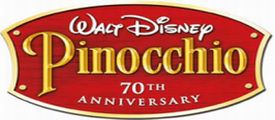 Background
From Walt Disney Home Entertainment:
Walt Disney's delightful animated classic, "Pinocchio" has been entertaining and enchanting moviegoers of all ages for 70 years. This magical film transports audiences to a wondrous fantasy world where puppets come to life, crickets talk and, under the right circumstances, wishing upon a star can make dreams come true.
At the time of its initial release in 1940, the film broke new ground for the art of animation and established a level of excellence in artistry and storytelling which remains the standard even today. With its incredible detail, imaginative design, lavish colors, pioneering special effects, Academy Award-winning score and song ("When You Wish Upon A Star") and heartfelt animated characters, PINOCCHIO represents a milestone in animation and continues as an inspiration to generations of filmmakers to follow. It took more than 750 artists, 80 musicians, 1500 shades of color and one million drawings to bring this ambitious film to the screen.
PINOCCHIO was the second animated feature to be produced by Walt Disney and his animation team with its release following the enormously successful SNOW WHITE AND THE SEVEN DWARFS in 1937. BAMBI was originally scheduled to be the second film, but difficulties in telling that story and portraying the animal characters in a credible manner caused a delay. Development on PINOCCHIO began in 1937, while SNOW WHITE was still in active production. A team of seven top storymen adapted the popular children's tales by Italian journalist Carlo Collodi while another group of artists struggled for 18 months to come up with the final design for the title character. Ultimately, it was Walt's brilliant instincts for storytelling that served as the catalyst for the masterpiece that resulted.
Adding to the spectacular look of PINOCCHIO were the contributions of noted illustrator Gustaf Tenggren, who had previously influenced the style and design of SNOW WHITE. Tenggren's model drawings and architectural studies of Geppetto's workshop and the village as well as his inspirational paintings of the underwater scenes gave the film a unique and detailed perspective that added an important element to the telling of the story. He is also credited with giving the film a Bavarian flavor, in contrast to the Alpine setting of Collodi's book.
Once the story was set and the designs were finalized, the challenge of bringing the characters to life was taken on by the studio's top character animators, headed by a team of eight animation directors and five sequence directors. Their combined talents and efforts resulted in a group of characters that are among the most memorable ever created for any film.
The additional ingredient needed to bring the characters to life was a cast of performers who could vocally provide the motion and entertainment that the parts called for. Among those auditioning for the voice of Pinocchio was 12 year old Richard "Dickie" Jones, a veteran child actor with over five years experience and nearly 40 films to his credit. After several call-backs, Walt Disney personally took Jones and his mother out to lunch and asked him, "How would you like to be the voice of Pinocchio?" Without hesitation, the young actor replied, "You bet!"
For the voice of Jiminy Cricket, Pinocchio's conscientious companion who's just a whistle away, Disney cast Cliff Edwards, a former radio singer and vaudevillian who was nicknamed "Ukelele Ike." Edward's smooth delivery and easy-going manner were just the ticket for the cricket and he went on to voice Jiminy in the 1947 Disney feature "Fun and Fancy Free," for segments of "the Mickey Mouse Club" and on other miscellaneous film and television assignments for the studio over the years.
The voice of the kindly woodcarver, Geppetto, was supplied by veteran stage and screen actor Christian Rub who also served as the physical inspiration for the character. Another familiar screen character actor, Walter Catlett, was the vocal counterpart of r the flamboyant and fraudulent fox, J. Worthington Foulfellow while legendary character voice talent Mel Blanc (Bugs Bunny, Elmer Fudd, Sylvester, etc.,) provided the solitary hiccup uttered by the otherwise silent Gideon the cat.
The vocal cast also included Charles Judels, who did double duty as the voice of the evil puppet show impresario, Stromboli, as well as the cynical Coachman. Popular screen star Frankie Darro, who often played tough juveniles or pint-sized punks on film, is hears as Lampwick, Pinocchio's Pleasure Island pal who literally makes a jackass out of himself. The lovely voice of the Blue Fairy is provided by actress Evelyn Venable, a popular film star in the 1930's whose live-action credits include DEATH TAKES A HOLIDAY and ALICE ADAMS. The actress also taught classical Greek and Latin for many years as a faculty member at UCLA.
Unlike its predecessor, SNOW WHITE AND THE SEVEN DWARFS, which became a box office sensation, PINOCCHIO encountered difficulties recouping its cost during its initial release, largely due to the loss of overseas revenues as a result of World War II. Disney's bold experimentation and push for perfection did not come cheaply and, in the end, PINOCCHIO cost a staggering $2.6 million dollars and the studio had to write off a loss of one million dollars. Fortunately, this set-back did not discourage Disney and subsequent reissues have earned PINOCCHIO a ranking as one of the all-time box office champs as well as one of the most popular films with audiences the world over.
Buy the Pinocchio 70th Anniversary Platinum Edition NOW!
2-disc DVD OR 2-disc Blu-ray
---
Animated Films Items Available at eBay - Scroll for additional items
PatriotResource.com original content and design Copyright © 1999- Scott Cummings, All Rights Reserved.
Privacy Statement
.