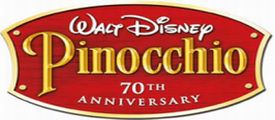 Innovations & Origins
From Walt Disney Home Entertainment:
A NEW VIEW -- TECHNICAL INNOVATIONS
A true technical marvel at the time of its release, PINOCCHIO continues to break new ground with innovations -- even at its 70th Anniversary -- with the advent of Disney View. A new viewing experience for future generations of home audiences, Disney View brings classic Disney films to the modern era of widescreen high definition viewing by allowing the user to expand their viewing experience beyond the original aspect ratio of the film. Utilizing Disney Blu-rayT technology, artists are able to 'draw' beyond the borders of classic full frame cinema and fill the otherwise dark edges of the screen with beautiful original imagery, giving audiences a new view on their animated classic favorites.
Legendary artist Toby Bluth is the first artist's work to be featured on Disney View. Bluth's long abiding love of, and association with, Walt Disney Studios made him the perfect artist to launch the Disney View feature on this Platinum Edition release of PINOCCHIO. Inspired by the work of legendary illustrator Gustaf Tengrenn, whom Walt Disney recruited to work on SNOW WHITE AND THE SEVEN DWARFS, Bluth is passionate about his craft. Growing up, he spent countless hours pouring over the background art of films from the Golden Age of Disney animation when the preferred medium for painting backgrounds was transparent watercolor - a very difficult medium to work with. His passion for transparent watercolor led Bluth to take on the artistic challenge of 'framing the master's work' and shaping the panels for this inaugural release of Disney View. A respected artist for Disney Art Editions and art director for Disney Animation, Toby Bluth's creative endeavors do not end at the tip of his brush. He is an accomplished writer, director, designer and a veteran of the American musical stage having performed and or directed in nearly one hundred musicals, both on Broadway and beyond.
Fully restored to its true splendor, audiences will now get to experience PINOCCHIO in its purest form yet. For nearly a year, a talented team of restoration experts digitally scanned 380,334 frames of four and a half miles of 71 year-old film negative, cleaning 126,778 frames to bring this beloved classic to its most illustrious state. After months of carefully realigning each scene, removing accumulated dirt and dust, and matching colors to the original cels and backgrounds, Walt Disney's second animated feature film leaps off the screen as never before. The result is a breathtaking clarity that allows you to experience PINOCCHIO just as Walt himself originally envisioned it.
THE ORIGINS OF PINOCCHIO
The tale of a puppet, brought to life by a magical Fairy, and whose nose grew longer whenever he did something bad can be traced back over 110 years ago to Florence, Italy. It was there in 1881 that an erstwhile journalist named Carlo Lorenzini, writing under the pen name of Carlo Collodi, agreed to write a serialized story for a children's magazine to repay a small gambling debt. After fifteen installments, the author tired of the protagonist and tried to kill him off by hanging him. The public and Collodi's editor refused to allow Pinochio to die and Collodi responded by creating the Fairy with the Blue Hair to resurrect him and protect him until the final segment appeared in January, 1883. In the end, the puppet became a boy, and a few months later, Pinocchio became a bestselling book.
Adapting Collodi's avventure de Pinocchio into a Disney animated feature was no small task. The original Pinocchio tales were grotesque adventures full of swindles, chicanery, abductions and murders. According to animation historian Russell Merritt, "The hero of Collodi's book is an unredeemed combination of cruelty and malice who stubbornly refuses to learn and who flies into tantrums when he cannot get his way. He is an innately malicious, unwanted child. Disney changes all of this and, in so doing, corrects a terrible wrong by making him both lovable and loved - loved for himself, and not for what he should or shouldn't be."
Among the many liberties that the Disney story team took in creating their version was to expand the role of the cricket. In the Collodi original, the Talking Cricket was a shortlived, incidental character who appeared in a single chapter and proceeded to deliver a series of dull sermons. Pinocchi's response was to smash him with a hammer. Jiminy fares far better in the Disney film and went on to become one of the most popular characters in the studio's table. Jiminy Cricket was actually a late addition to the Disney film and was not invented until June 1938, some nine months after production on PINOCCHIO had started.
Buy the Pinocchio 70th Anniversary Platinum Edition NOW!
2-disc DVD OR 2-disc Blu-ray
---
Animated Films Items Available at eBay - Scroll for additional items
PatriotResource.com original content and design Copyright © 1999- Scott Cummings, All Rights Reserved.
Privacy Statement
.