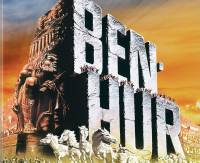 With 100,000 costumes, 8,000 extras, 300 sets and a budget that, at the time, was the most expensive in MGM's history,
Ben-Hur
is widely considered to be one of the most accomplished Biblical-era epics ever made. Based on Lew Wallace's best-selling
novel
and adapted by Karl Tunberg and a number of uncredited writers including Gore Vidal and Maxwell Anderson,
Ben-Hur
stars Charlton Heston, Hugh Griffith (Sheik Ilderim), Stephen Boyd (Messala), Jack Hawkins (Quintus Arrius), Haya Harareet (Esther), Martha Scott (Miriam), Sam Jaffe (Simonides) and Frank Thring (Pontius Pilate).
Heston brings a solid physical and moral presence to the title role of Judah Ben-Hur, and his charismatic performance earned him one of the film's 11 Academy Awards (a feat equaled only by
Titanic
and
The Lord of the Rings: The Return of the King
). In addition to the Best Actor award,
Ben-Hur
also captured Oscars® for Best Picture, Best Director (William Wyler), and Best Supporting Actor (Griffith).
The movie was filmed in a process known as MGM Camera 65, one of the widest prints ever made with a width almost three times its height. This allowed for spectacular panoramic shots and bold action sequences. Even by today's standards,
Ben-Hur
's now legendary chariot race still astonishes. The lack of computer-generated effects, the visually stunning MGM Camera 65 process, and excellent cinematography all make the scene one of the most memorable in modern cinema.
Ben-Hur 4-disc DVD Collector's Set:
Disc One & Two: The Movie
Newly Remastered and Restored from Original 65mm Film Elements
Dolby Digital 5.1 Audio
Commentary by Film Historian T. Gene Hatcher with Scene Specific Comments from Charlton Heston
Music-Only Track Showcasing Miklos Rozsa's Score
Screen Tests
Vintage Newsreels Gallery
Highlights from the 1960 Academy Awards Ceremony
Theatrical Trailer Gallery
Disc Three: The 1925 Silent Version
The Thames Television Restoration with Stereophonic Orchestral Score by Composer Carl Davis
Disc Four: About the Movies
New Documentary: Ben-Hur: The Epic That Changed Cinema - Current filmmakers such as Ridley Scott and George Lucas reflect on the importance and influence of the film
1994 Documentary: Ben-Hur: The Making of an Epic Hosted by Christopher Plummer
Directed by William Wyler - 1986 Emmy Award ® -nominated documentary featuring the last interview with Wyler before his death
Ben-Hur: A Journey Through Pictures - New audiovisual recreation of the film via stills, storyboards, sketches, music and dialogue
Buy the Ben-Hur 4-Disc DVD Collector's Set Now!
PatriotResource.com original content and design Copyright © 1999- Scott Cummings, All Rights Reserved.
Privacy Statement
.