Roman TV Series:
Rome (2005-2007)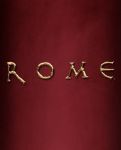 Complete Series: DVD | Blu-ray
First Season: DVD | Video on Demand (2005)
Second Season: DVD | Video on Demand (2007)
From HBO:
Four hundred years after the founding of the Republic, Rome is the wealthiest city in the world, a cosmopolitan metropolis of one million people; epicenter of a sprawling empire. The Republic was founded on principles of shared power and fierce personal competition, never allowing one man to seize absolute control. But now, those foundations are crumbling, eaten away by corruption and excess.
After eight years of war, two soldiers, Lucius Vorenus and Titus Pullo unwittingly become entwined in the historical events of ancient Rome. A serialized drama of love and betrayal, masters and slaves, husbands and wives,
Rome
chronicles a turbulent era that saw the death of the republic and the birth of an empire.
From The Patriot Resource:
The rather vanilla description doesn't mention what should be obvious: this being an HBO series, nudity, adult sitations and violence are not in short supply. The show went from miniseries to series to cancelled after two seasons when HBO couldn't justify the high production costs for a third season.
Related Items Available at eBay - Scroll for additional items