Other Films:
Troy (2004)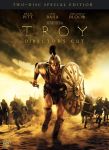 2-Disc (Collector's Edition) DVD
2-Disc (Special Edition) DVD
2-Disc (Special Edition) Blu-ray
2-Disc DVD | Single-Disc DVD
Video on Demand: Theatrical Cut | Director's Cut
Soundtrack: CD | MP3 Download
From Warner Home Video:
Oscar® nominee Brad Pitt (
Ocean's Thirteen, Twelve Monkeys
) brings a dynamic, brooding presence to the role of Greek warrior Achilles in this spectacular retelling of
The Iliad
. Orlando Bloom (
Pirates of the Caribbean
) and Diane Kruger (
National Treasure
) play the legendary lovers who plunge the world into war, Eric Bana (
Munich, Lucky You
) portrays the prince who dares to confront Achilles and Peter O'Toole (
Venus
) rules Troy as King Priam. Director Wolfgang Petersen recreates a long-ago world of warship flotillas, clashing armies, a massive fortress city and the towering Trojan Horse. Also starring are Brian Cox (
Zodiac
), Sean Bean (
Lord of the Rings
trilogy) and Brendan Gleeson (
Harry Potter
series).
From The Patriot Resource:
As the official description indicates, this film tells the story of the love of Helen, wife of Greek Nenelaus, and Paris of Troy, which leads to the siege of the city of Troy and the Trojan Horse. Thrown in for good measure is some angst from the ultimate warrior, Achilles. The film clearly achieves epic scale, but the theatrical release doesn't quite click. However, the special effects, production values and ensemble cast make this film more than worth a look.
Related Items Available at eBay - Scroll for additional items