Other Roman Films:
Spartacus (1960)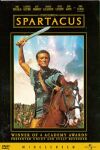 50th Anniversary Blu-ray
2-Disc Criterion DVD
Single-Disc DVD
From Universal:
Spartacus
, based on Howard Fast's popular novel, is Stanley Kubrick's glorious masterpiece about a slave uprising in Rome in 70 B.C. Kirk Douglas, who also served as executive producer, stars as the title character, a man born of a slave woman and a slave master who has known nothing but chains his entire life. After being forced to put on a gladiator show—that almost leads to his death—for wealthy Romans (including a marvelously conniving Laurence Olivier as the power-hungry Crassus), Spartacus leads a slave revolt across Italy that soon has thousands marching on Rome.
Meanwhile, he has fallen in love with the beautiful Varinia (an effervescent Jean Simmons), pledging his life to her. Douglas assembled a fabulous all-star cast for the film; in addition to himself, Simmons, and Olivier, terrific performances are turned in by Charles Laughton as the curmudgeonly senator Gracchus, John Gavin as the young Julius Caesar, Tony Curtis as Antoninus (a "singer of songs," with all lines delivered in a beautifully thick New York accent), and especially Peter Ustinov, an Oscar winner for his portrayal of the businessman Batiatus, who always wants to know what's in it for him.
From The Patriot Resource:
Spartacus
tells the story of the true slave uprising in Italy led by Spartacus. This film's most interesting parts are early on when Spartacus is training to become a gladiator.
Gladiator's
scenes of
Maximus'
gladiator training bear more than a passing resemblance to some scenes out of
Spartacus
. Kirk Douglas' attempt to use the Roman epic to move from Hollywood star to Hollywood superstar instead is just epic in length (not all of those walking scenes were necessary). Douglas had to enlist his friend Stanley Kubrick to help finish directing the film when Douglas (who also produced) fired the original director. The film does boast some great casting and racy material for the era.
Related Items Available at eBay - Scroll for additional items