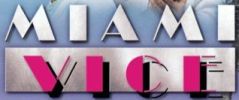 Premise:
The exploits of the Miami Police Department Vice squad, which involves plenty of drug smuggling, cool cars, clothes and South Florida scenery.
From The Patriot Resource:
This show was filmed like it was a 60-minute music video. Slick visuals and great music were what made it cool, but the writing gave it legs (at least for a couple of season) with stories that still hold their own against much of today's television fare.
Characters:
- Sonny Crockett was the cool lead vice squad detective
- Rico Tubbs was a New York cop who ended up in Miami and became Crockett's partner
- Lt. Castillo was the by-the-book commander of the Vice Squad
- Gina Calabrese was one of the female members of the Vice Squad
- Trudy Joplin was the other female member of the Vice Squad.
- Stan Switek was part of the second male vice squad team.
- Larry Zito was Switek's partner, who was killed off late in the show's run.
- Izzy Moreno was a snitch used by the Vice Squad.
Cast & Crew List
Name:
Credit:
Anthony Yerkovich
Michael Mann

Don Johnson
Philip Michael Thomas
Edward James Olmos
Saundra Santiago
Olivia Brown
Michael Talbott
John Diehl
Martin Ferrero
... Creator
... Executive Producer

... Det. Sonny Crockett
... Det. Rico Tubbs
... Lt. Martin Castillo
... Det. Gina Calabrese
... Det. Trudy Joplin
... Det. Stan Switek
... Det. Larry Zito
... Izzy Moreno
Miami Vice (1982-1987) IMDB Listing