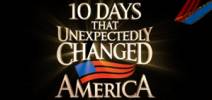 10 Days That Unexpectedly Changed America
Buy the Companion Book Now!
In 2004, a group of distinguished historians met with The History Channel® to discuss days that unexpectedly changed the history of America . The goal, which everyone agreed on, was to select ten days that weren't obvious and were seemingly undervalued in their influence in shaping America 's national and cultural identity.
The History Channel® then selected a group of highly creative, independent award-winning filmmakers to join the project. The result is
10 DAYS THAT UNEXPECTEDLY CHANGED AMERICA
, a remarkable look at ten days, some familiar and some lesser known, that together illustrate the path this country has taken. The miniseries includes the following episodes: Massacre at Mystic, Shays' Rebellion, Gold Rush, Antietam, The Homestead Strike, Murder at the Fair, Scopes: The Battle over America's Soul, Einstein's Letter, When America was Rocked and Freedom Summer.
Click Here for Episode Descriptions for the Ten Days Miniseries
Click Here for Exclusive Preview Clips from iFilms.com
Related Items Available at eBay - Scroll for additional items
PatriotResource.com original content and design Copyright © 1999- Scott Cummings, All Rights Reserved.
Privacy Statement
.