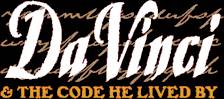 Da Vinci & the Code He Lived By @ The History Channel
Re-visit the life, accomplishments, and vision of Leonardo da Vinci
Narrated by Sam Mercurio


Born in obscurity and illegitimate in a tiny Italian village in 1452, young Leonardo da Vinci seemed destined for a life of peasantry. But early mastery of art and a personal code for success that he developed catapulted him to the highest levels of Italian society and ultimately made him one of the most important figures of the Renaissance and one of the world's truly immortal minds. A fierce intellect made Leonardo the master of whatever he set his mind to, and his ability to see far beyond the limits and violence of his time continues to feed his popularity to this day. Re-visit the life, accomplishments, and vision of Leonardo da Vinci with The History Channel special presentation,
DA VINCI & THE CODE HE LIVED BY.
Florence , Italy was at the epicenter of the explosion of ideas and culture that was the Renaissance, and it was there that Leonardo da Vinci became a student of the artist Andrea del Verrocchio at age twelve. He learned all the finer points of painting and sculpture, but engineering and mechanical training as well, constantly sketching what he saw to feed his development. By age 21, Leonardo had joined the artists' guild and Verrocchio enlisted his help with a portion of an important painting of the baptism of Christ. It has been said that da Vinci's work on the painting was so technically perfect that Verrocchio never wanted to paint again after seeing it.
As the bastard child of unmarried parents, Leonardo was still considered something of an outcast and never received formal education. But unending curiosity for how things worked fueled his talents and set him apart from his peers. He had a love of nature, was fascinated with military strategy, flight, death, and creating large objects of a scale thought impossible in his day. He was also said to possess extraordinary good looks, charisma, strength, and personality, all of which was reflected in his work. A passion and determination to succeed far above his humble beginnings, led him to develop and live by a code for success. a road that would carry him to a greatness that is still recognized today.
- Art Gallery

- Highlights of the Presentation

- Review of the Presentation from PatriotResource.com
Related Items Available at eBay - Scroll for additional items
PatriotResource.com original content and design Copyright © 1999- Scott Cummings, All Rights Reserved.
Privacy Statement
.