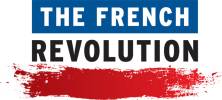 The French Revolution
Narrated by Edward Herrmann
At the height of the 18th century, the most glorious kingdom in Europe would face a mighty foe--the power of its own people. One man would rise to inspire the nation to cast aside a hated King and Queen, and a new republic would be born in blood--the blood of the French Revolution.

Review of this presentation from PatriotResource.com

Timeline: Brief timeline of the French Revolution

Background: Background of The History Channel Presentation

Art Gallery: Gallery of paintings inspired by the events of the French Revolution


Related Items Available at eBay - Scroll for additional items
PatriotResource.com original content and design Copyright © 1999- Scott Cummings, All Rights Reserved.
Privacy Statement
.
Available at Amazon.com


The History Channel DVD:
The French Revolution
---
---