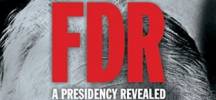 FDR - A Presidency Revealed @ The History Channel
Four-hour presentation offers a fresh perspective
on the public and private Franklin Delano Roosevelt
Narrated by Edward Herrmann



To a generation of Americans, Franklin Delano Roosevelt was seen as the savior of the American Dream. But behind Roosevelt 's titanic struggle to pull America from the abyss of the Depression and the horrors of war were personal struggles just as significant: physical incapacity, distance from his wife, and badly deteriorating health, even as he orchestrated World War II. The new two-part, four-hour special from The History Channel goes beyond the public façade of FDR and into the complex life that shaped one of America 's greatest leaders.
Drawing on previously unseen and unheard footage,
FDR: A PRESIDENCY REVEALED
provides a definitive look inside the life of a man who was known the world over, but was intimate with very few. It begins at the opening of FDR's first term as president, with America facing declining markets, 25 percent unemployment and the imminent collapse of the nation's banking system, and continues to his death twelve years later, after a re-invigoration of the U.S. economy and just prior to the surrender of Germany. The details in between paint a remarkable portrait of courage, triumph, tragedy, and struggle.
FDR: A PRESIDENCY REVEALED
uses the recently discovered diary and voice recordings of Suckley, 70 rarely seen photographs, an in-depth oral history recording from Eleanor, and extensive personal interviews with Curtis Roosevelt to cast FDR in a more human light than ever before. Historical perspective is provided by noted biographers Doris Kearns Goodwin and Jon Meacham, as well as historians and authors including William Leuchtenburg, David Kennedy, Craig Wilder, Thomas Fleming, and Robert Dallek. On-location filming at Hyde Park, New York; Warm Springs, Georgia; and Campobello, New Brunswick, combines with extensive color and black-and-white footage of the life and times of FDR to take viewers on a journey back to twentieth-century America's defining time, and inside the life of the man who defined it.
- Highlights of Part 1

- Highlights of Part 2

- Photo Gallery

Related Items Available at eBay - Scroll for additional items
PatriotResource.com original content and design Copyright © 1999- Scott Cummings, All Rights Reserved.
Privacy Statement
.