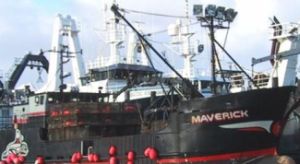 >
F/V Maverick

The F/V Maverick Herself:
The F/V Maverick is a 82-foot vessel. She was built in 1982 in Coos Bay, Oregon by Giddings Boat Works. Her home port is Seattle, Washington. She was bought by Rick and Donna Quashnick in 1991.
The Captain - Rick Quashnick:
Rick grew up in Oregon. He got his start fishing in the Columbia River. Following the eruption of Mt. Saint Helens, Rick looked to start fishing in Alaska waters, which led to the purcahse of the F/V Maverick.
Notable Crew:
Blake Painter:
The Maverick's engineer and most recently, greenhorn captain during the 2006 Red (King) Crab season. Blake went on to captain another boat. Blake passed away in 2018.
Donna Quashnick:
Rick's wife and the Maverick's co-owner. She's served as cook for the winter (opilio) crab season since 1993.
Deadliest Catch Items Available at eBay - Scroll for additional items