Episode 501 Spoilers: Chuck vs. the Zoom; 10/28/2011
10/21/11:
Mark Hamill's appearance is apparently a cameo. He says "I'm only in one scene. It's a dream come true because not only is it a really delightful show, but the scene I'm in is like a James Bond scene. I've seen these spy things before, but I never thought I'd be a part of one. I'm playing this arch-villain holding these two young people hostage, forcing them to jump off a cliff. It's wonderful. I had a great time.
From TV Guide
10/21/11:
The season picks up a few months after the end of the fourth season.
From TV Guide
10/21/11:
Promotional stills from the episode: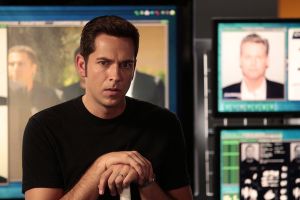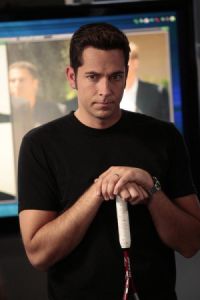 Chuck, Casey and Sarah in the new Castle. Guest villain Craig Kilborn's headshot can be seen on the monitor over Chuck's left shoulder.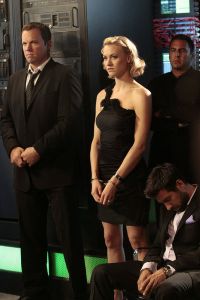 Op went wrong. Intersect Morgan is out cold, while Casey and Sarah are cuffed.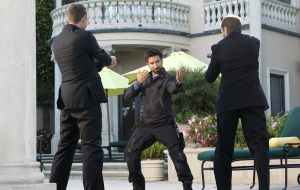 Intersect Morgan apparently eager to show off his new skillz.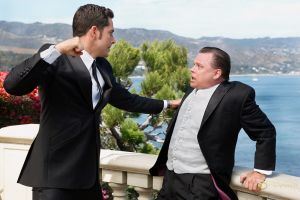 Chuck ready to take a swing at the episode's other baddie, Mark Hamill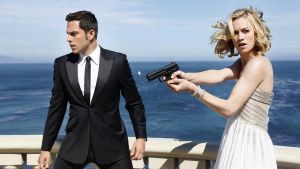 ---
10/20/11:
AS CHUCK BEGINS LIFE AS A SPY-FOR-HIRE, HE MUST ADJUST TO HIS NEW BUSINESS, NEW THREATS, AND A NEW INTERSECT -- HIS BEST FRIEND MORGAN GRIMES - MARK HAMILL AND CRAIG KILBORN GUEST STAR-Without the Intersect in his head or the support of the CIA, the world of espionage is a much more dangerous place for Chuck Bartowski (Zachary Levi) and his team of freelance spies. To start, Carmichael Industries takes on a slick, rich thief named Jean Claude (guest star Mark Hamill), and a conniving investor, Roger Bale (guest star Craig Kilborn), who has stolen money from some of the world's most dangerous people. Meanwhile, Morgan (Joshua Gomez) helps Chuck with a special surprise for Sarah (Yvonne Strahovski). Back in the Buy More, Jeff (Scot Krinsky) and Lester (Vik Sahay) have taken things to another level with their latest scheme.
From NBC
10/20/11:
Craig Kilborn guests as "Roger Bale, a charming yet conniving investor who's stolen money from some of the world's most dangerous people."
From TVLine
10/20/11:
Added Episode Title.