Episode 502 Spoilers: Chuck vs. the Bearded Bandit; 11/4/2011
10/21/11:
CARRIE-ANNE MOSS ("THE MATRIX") GUEST STARS AS 'GERTRUDE VERBANSKI'-JEFF FAHEY AND JUSTIN HARTLEY ALSO GUEST STAR-As the team takes on a missing persons case, Chuck (Zachary Levi) and company struggle to establish themselves as Carmichael Industries in the face of a rival security firm led by the tough and efficient Gertrude Verbanski (guest star Carrie-Anne Moss). Meanwhile, Morgan (Joshua Gomez) continues to adjust to the Intersect while Chuck adjusts to being his handler. Also, the Buy More finds an unlikely spokesperson to help drum up business.
From NBC
10/21/11:
With Chuck owning the Buy More, Awesome will "become the face of the company" Ryan McPartlin says, "[Awesome's] going to be like the Tony Robbins of the Buy More. The fact that Ellie and Awesome know about the spy world, it'll be like the A-Team and we'll help out, but only when we're absolutely needed because of the baby." According to Chris Fedek, Chuck won't just treat the Buy More as a front, but be concerned with it being profitable. As such, he uses Awesome in a new promotional campaign. We'll also "see the original Buy More commercial that Big Mike starred in back in 1981."
From TV Guide's MegaBuzz
10/21/11:
Promotional stills from the episode: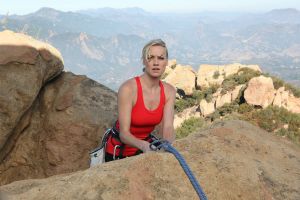 A little mountain climbing for the mission.



Sarah's been joined by Chuck and Casey.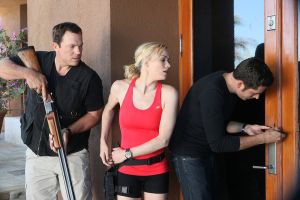 The three endeavour to break into the mountaintop house.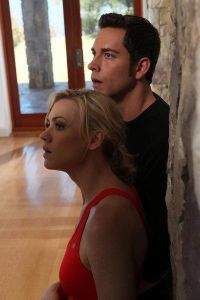 Chuck and Sarah seem to be watching or waiting for something.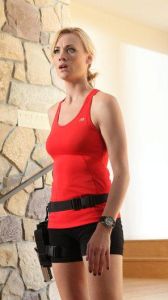 Sarah. Do we really need to say anything else/


---
10/20/11:
Jeff Fahey and Justin Hartley guest star. "Fahey plays Karl Sneijder, who, as the boss of a diamond company with mines in South Africa, has been investigated by the CIA in the past for alleged criminal activity. They've never been able to pin anything on him. Hartley will star as Wesley Sneijder, Karl's handsome younger brother. A Dartmouth and Oxford-educated anthropologist, Wesley has always done his best to stay out of his brother's business, wanting nothing to do with the 'world of espionage and spies.'"
From Zap2It
10/20/11:
Added Episode Title.