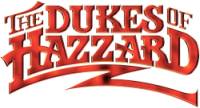 Film Adaptation
Set in present day, the story follows the adventures of good old boy" cousins, Bo and Luke Duke, who with the help of their eye-catching cousin Daisy, moonshine running Uncle Jesse, grease-monkey friend Cooter and Sheev, try and save the family farm from being destroyed by Hazzard County's corrupt commissioner Boss Hogg. Their efforts constantly find the "Duke Boys" eluding authorities in "The General Lee," their famed 1969 orange Dodge Charger that keeps them one step ahead of the dimwitted antics of the small southern town's Sheriff Roscoe P. Coltrane and give Bo a chance to win the Hazzard Road Rally for the fifth straight year, beating Billy Prickett.
From The Patriot Resource:
This remake could be called
National Lampoon's Dukes of Hazzard
. The film pokes fun at the original TV series' characters and plot gimmicks (such as Daisy plying Enos for information), some of which actually have some wit. Every woman featured in the film is objectified (with the exception of Pauline), and none take issue with it. Daisy points out that she's seen as an object, but then uses her assets time and again. Uncle Jesse has not been reformed in his moonshining ways, and drug use and profanity have been added. The filmmakers even come with a way for Bo and Luke to make a trip to a college sorority where they just walk in to several rooms filled with half-naked and inviting young women. About the only thing about the original series that the film treats with respect are the car chases, of which there are several filled with some impressive stunts. This is not the most intelligent movie, but then again many would argue the same about the original TV series.
Cast & Crew List
Johnny Knoxville
Seann William Scott
Jessica Simpson
Willie Nelson
Burt Reynolds
M.C. Gainey
Michael Weston
David Koechner
Jack Polick
Lynda Carter
Alice Greczyn
Nikki Griffin
Jacqui Maxwell
Kevin Heffernan
James Roday
Joe Don Baker
A.J. Foyt IV
Junior Brown

Gy Waldron
John O'Brien
Jay Chandrasekhar
... Luke Duke
... Bo Duke
... Daisy Duke
... Uncle Jesse Duke
... Boss Hogg
... Sheriff Roscoe P. Coltrane
... Deputy Enos
... Cooter
... Deputy Cletus
... Pauline
... Laurie Pullman
... Katie Johnson
... Annette
... Sheev
... Billy Prickett
... Governor Jim Applewhite
... Race Car Driver
... The Balladeer

... Characters
... Screenplay
... Director
Dukes of Hazzard Film Remake IMDB Listing (2005)


Film DVD Details:
- Daisy Dukes: The Short Short Shorts Featurette
- The General Lee Lives: Featurette on the car
- How to Launch a Muscle Car 175 Feet in 4 Seconds: Featurette on the jumping stunt
- The Hazards of Dukes: Behind -the-Scenes Featurette
- Jessica Simpson's These Boots Are Made for Walkin' Music Video
- Deleted Scenes
- Gag Reel
- Theatrical Trailer
Buy the Dukes of Hazzard Film DVD Now!