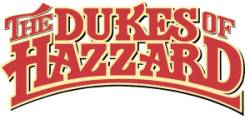 Dukes of Hazzard TV movies:
From Warner Home Video:
Reunion!
(original air date: 4/25/97) brings the original cast back home to Hazzard County, only to discover a plot by crooked developer Josephine 'Mama' Max (
Stella Stevens
) to destroy Hazzard Swamp and turn it into a theme park. Before the swamp critters can be left high and dry, good 'ole boys Bo Duke
(John Schneider)
and Luke Duke
(Tom Wopat)
vow to put a stop to the plans and must dust off the General Lee and win a cross-country moonshine race to do so. The plot thickens when Mama Max stops at nothing to prevent the Duke Cousins from competing in the race, including kidnapping Daisy
(Catherine Bach).
Will Hazzard Swamp be saved or will Mama Max triumph in her evil ways?
Reunion! Cast List
Name:
Credit:
Tom Wopat
John Schneider
Catherine Bach
Denver Pyle
James Best
Sonny Shroyer
Ben Jones
Don Williams
Rick Hurst
Gary Hudson
Cynthia Rothrock
Stella Stevens
Daniel Anderson
Emily Proctor
... Luke Duke
... Bo Duke
... Daisy Duke
... Uncle Jesse Duke
... Boss/Sheriff Roscoe P. Coltrane
... Enos Strate
... Rep. Cooter Davenport
... The Balladeer
... Deputy Cletus Hogg
... Riker
... Bertha Jo
... Mama Jo Max
... Buzz Kilroy
... Mavis
Dukes of Hazzard: Reunion! IMDB Listing (1997)
---
From Warner Home Video:
The Duke Boys head west in
Hazzard in Hollywood
(original air date: 5/19/00) to sell musical recordings in order to raise money to build a new hospital in Hazzard County . However, their plan goes awry when their belongings are stolen and they realize their big-time recording deal is with some shady 'fellas. Russian gangsters, mysterious hit men and vicious loan sharks make the Dukes Boys' mission to retrieve their music a bit of a challenge. Bo and Luke will have to use their quick wit to overcome the fraud they encounter on this wild ride.
Hazzard in Hollywood Cast List
Name:
Credit:
Tom Wopat
John Schneider
Catherine Bach
James Best
Sonny Shroyer
Ben Jones
Mac Davis
Rick Hurst
Patricia Manterola
Alexander Kuznetsov
... Luke Duke
... Bo Duke
... Daisy Duke
... Roscoe P. Coltrane
... Enos Strate
... Rep. Cooter Davenport
... The Balladeer
... Deputy Cletus Hogg
... Gabriela
... Igor the Terrible
Dukes of Hazzard: Hazzard in Hollywood IMDB Listing (2000)