Episode 304 Spoilers: Chuck vs. Operation Awesome; 1/18/2010
1/13/10:
Guest characters: SYDNEY - 35 years old. Female. Super sexy, composed. Has the icy demeanor of a professional spy. Ruthless and powerful.MAJOR PROMOTABLE GUEST STAR; JULIUS - 40s. A huge, imposing, menacing Security Guard, but has the heart of a softie. A big teddy bear.ONE-DAY GUEST STAR. Please submit all ethnicities; OLD KOREAN WOMAN - Must be able to speak Korean and English.CO-STAR.
From Casting Calls
1/10/10:
To save Awesome from the Ring, Chuck must teach him how to be a real spy. When Awesome is mistaken for a super spy by the evil Sydney Price (Guest Star Angie Harmon), Chuck must become his handler and show him the spy ropes. While on a mission for the Ring, they meet the mysterious Daniel Shaw (Guest Star Brandon Routh). Meanwhile, Morgan gets promoted to assistant manager and must deal with Jeff and Lester's latest hijinks.
From NBC
1/10/10:
Selected Promo Pics from the episode: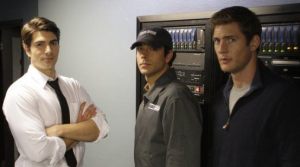 Chuck and new Agent Awesome with Daniel Shaw.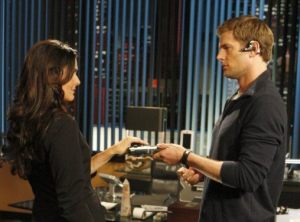 Agent Awesome with "evil" Sydney Price.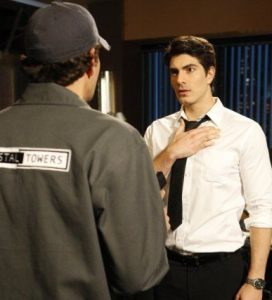 Chuck and Daniel Shaw have a heart-to-heart?