Episode 316 Spoilers: Chuck vs. the Tooth; 5/10/2010
5/9/10:
Selected Promo Pics from the episode: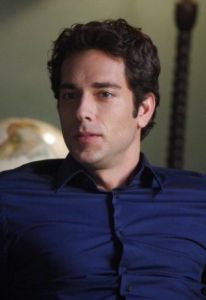 Thoughtful Chuck.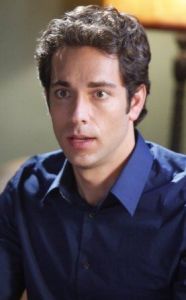 Chuck again.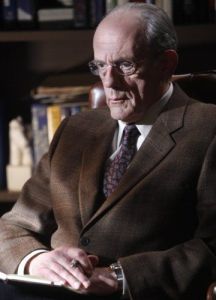 Dr. Leo Dreyfus, Chuck's shrink.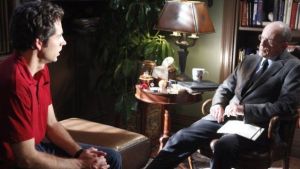 Chuck having a session with his new shrink.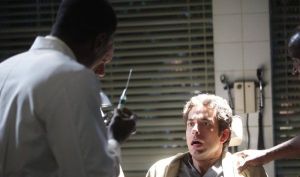 That's a sizeable needle.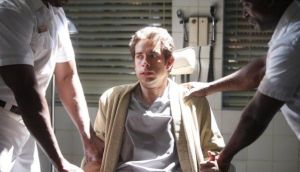 At least Chuck isn't in a straitjacket.


---
4/26/10:
CHUCK THE SPY NEEDS A THERAPIST. Chuck struggles with disturbing dreams and now he believes his most recent dream predicts danger for a visiting head of state. General Beckman, however, is unconvinced and assigns Chuck to meet with a CIA psychiatrist Dr. Leo Dreyfus (Guest star Christopher Lloyd). Meanwhile, Ellie gets surprising news and Anna (Guest star Julia Ling) returns to the Buy More to talk to Morgan.
From NBC
[Guess Ellie and Awesome's trip to Africa doesn't mean they are written out of the 'mini-season' and our guess is that she's pregnant.]
3/22/10:
It appears that Anna returns in this episode. What is certain is that she will be after Morgan.
From Ausiello
2/28/10:
Christopher Lloyd has been cast as Dr. Dreyfus, "a therapist who Chuck turns to when the pressures of the spy biz become too much for him to bear."
From Ausiello
1/31/10:
Guest characters: DR. LEO DREYFUS - 45-60. Caucasian, brutally deadpan, inscrutable and dour. He's a top CIA psychiatrist who provides therapy for spies and ex-spies. GUEST STAR; DR. MARTIN KOWAMBE - 40-45. African American, Africa's most respected scientist, he accompanies President Kuti to the symphony. He's hiding a sinister secret or ten. GUEST STAR; MERLIN - 30ish. Submit all ethnicities, with a twitch, this ex-spy is a mental patient who expresses curiosity about the facility's newest patient. GUEST STAR; PRESIDENT JAKAYA KUTIJ - 50-60. The President of Zamibia, this esteemed African man with an entourage is traveling to Los Angeles for diplomatic meetings and a trip to the symphony. ONE-DAY GUEST STAR.
From Casting Calls
Related Items Available at eBay - Scroll for additional items