Episode 305 Spoilers: Chuck vs. First Class; 1/25/2010
1/24/10:
Hannah is an publishing executive that gets laid off and ends up taking a job at the Buy More where both Chuck and Morgan are interested in her romantically.
From Kristin
1/23/10:
Selected Promo Pics from the episode: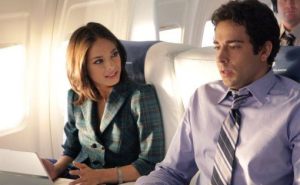 Chuck and Hannah. Notice that Chuck seems to be tense (again).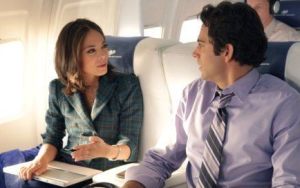 Hannah appears to be reassuring Chuck.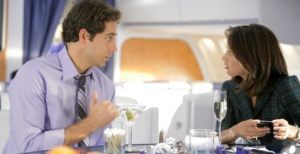 Chuck and Hannah talk over drinks at the bar. Notice she's either about to or just has checked her phone.


---
1/13/10:
CHUCK MUST GO ON HIS FIRST SOLO MISSION TO PARIS BUT HE'LL BE LUCKY TO SURVIVE THE FLIGHT. CIA agent Daniel Shaw (guest star Brandon Routh) assigns Chuck to his first solo mission in Paris, ignoring Sarah and Casey's wishes. During the flight to France, Chuck befriends Hannah (guest star Kristin Kreuk) and flashes on another passenger - the imposing Hugo Panzer (guest star Stone Cold Steve Austin). Meanwhile, Casey helps Morgan battle Jeff and Lester for control of the Buy More.
From NBC
Related Items Available at eBay - Scroll for additional items