Episode 318 Spoilers: Chuck vs. the Subway; 5/24/2010 (Season Finale, Part 1)
Episode 319 Spoilers: Chuck vs. The Ring, Part 2; 5/24/2010 (Season Finale, Part 2)
5/9/10:
THE RING TARGETS CHUCK AND HIS TEAM. The Ring is closing in on Chuck and Operation Bartowski. Fortunately, Chuck's dad Steven (Guest star Scott Bakula) is working hard to save his son. Meanwhile, Casey must secretly protect his daughter from the Ring, and Big Mike receives some serious news about the Buy More.
From NBC
[The NBC PR department can't decide if they want to call him Stephen or Steven Bartowski.]
5/9/10:
According to Chris Fedak, the finale is "a monster story that puts the entire show into a blender. [The Ring] finally see both [Chuck] and the Buy More as a very real threat they need to smite - and they'll do things no other villain has ever done to Chuck and his team."
From TV Guide Magazine
4/26/10:
"Someone from Chuck's past returns to do him great harm" and when his life is in danger, his father is the only one that can save him. Also, every major intelligence agency is under threat.
From Ausiello
[So who from Chuck's past has joined the Ring? Bryce? Jill the Ex? Shaw? Or someone that is introduced in the flashback to when Chuck and Ellie were kids?]
4/26/10:
There
might
be a new romance.
From Ausiello
[Nothing like a vague spoiler.]
3/28/10:
Concerning tthe pics below: '"It's the worst music video of all time," declares executive producer Josh Schwartz, who declines to reveal the title of the song. He does, however, offer these two clues: The track was once featured in a Western-themed movie, and it ties into the episode's big climax. "The way the original song was used in the movie is the way we're using it here," hints Schwartz. Adds fellow exec producer Chris Fedak: "The song narrates the action."'
From Ausiello
[So a Jeffster music video fits in with the finale's storyline, which is supposed to includes a significant death.]
3/28/10:
Stills from the episode: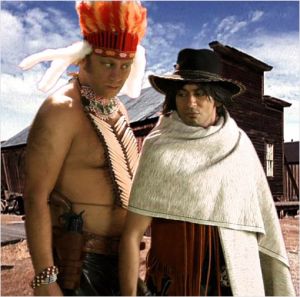 We really don't want to even guess what Western is being sent up by this still.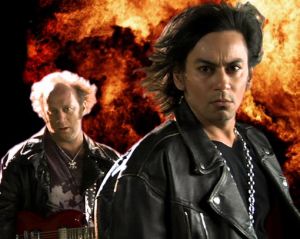 Another still from the Jeffster music video.


---
3/28/10:
Added episode title for Episode 319.
From Ausiello
3/22/10:
There will be "at least one significant death."
From Ausiello
[That's good and vague.]
2/28/10:
Steven Bartkowski (Scott Bakula) sppears.
From ChuckTV
3/7/10:
Added the episode title for Episode 318, which does not refer to the restaurant chain, but an actual subway.
From TVbytheNumbers
3/7/10:
Younger versions of Chuck (age 7) and Ellie (age 11) are being cast for a flashback sequence in the season finale that goes back to the night Steve Bartowski (Scott Bakula) left home.
From Ausiello
2/28/10:
The final two episodes will air back-to-back on Monday, May 24th to end the season.
From NBC