Episode 312 Spoilers: Chuck vs. the American Hero; 3/29/2010
3/28/10:
Selected Promo Pics from the episode: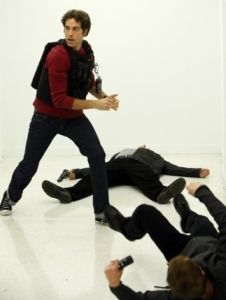 Chuck has just finished doing his "flash" thing.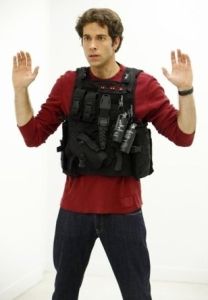 Someone's got the drop on Chuck.
[We're not sure if this actually precedes the first pic.]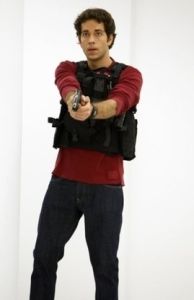 Now Chuck's got the drop on someone else.
[Again, we can't be sure of the sequence of these first three pics.]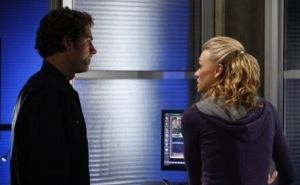 Our guess is that Chuck and Sarah are having a bit of a moment in the Castle.


---
3/22/10:
CHUCK IS DETERMINED TO GET HIS GIRL BACK. Chuck has his pick of the best CIA agents for an undercover operation but he has only one girl in mind for the job - Sarah. Casey, Morgan and Awesome team up to help Chuck win her back.
From NBC
[Clearly this episode is not "all about Casey" as our previous spoiler stated.]
2/28/10:
The episode is "all about Casey."
From Chicago Tribune
2/28/10:
Mark Sheppard (
BSG
's Romo Lampkin) appears in the final two episodes of the original thirteen episode arc as The Ring Director and has scenes with Shaw in one of them.
From Chicago Tribune
1/13/10:
Guest characters: GENERAL NORMAN SCHWARZKOPF LOOKALIKE - 65. Actor to play General Schwarzkopf. CO-STAR; HEFTY BURBANK COP - Male. 35-45. Out of shape, overweight but not huge Burbank cop who is very excited when some real action takes place on his beat. CO-STAR.
From Casting Calls
Related Items Available at eBay - Scroll for additional items