Episode 205 Spoilers: Chuck vs. Tom Sawyer; 10/27/2008
10/16/08:
The episode opens with a flashback to 1983 and a younger Jeff has just won the Moto Industries Missile Command gaming championship. He thinks he's got a bright future. Back in the present, Jeff is working at the Buy More muttering about that future. Chuck, Casey and Sarah have to infiltrate Moto Industries because it's been taken over by terrorists. Chuck learns that a satellite is set to "destroy everything" unless they can retrieve the control codes, which are hidden in the last level of Missile Command. Later, Chuck flashes and learns that the terrorists are using a tv station to control the satellite. Jeff gives Chuck some tips on playing Missile Command, which involve listening to Rush among other things. After failing his first attempt, Chuck is able to beat the game and get the codes to Sarah whose at the tv station.
From Casting Sides
10/14/08:
Selected Promo Pics from the episode: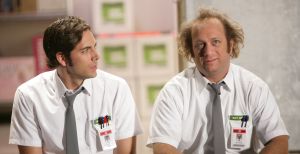 Chuck and Jeff share a rare serious moment.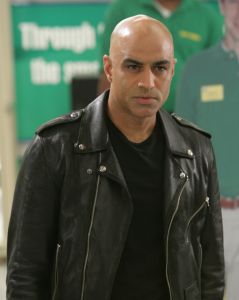 Farrokh Balsara [a/the bad guy].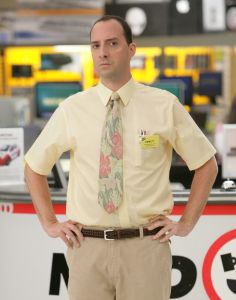 Efficiency expert turned assistant manager Emmett Milbarge.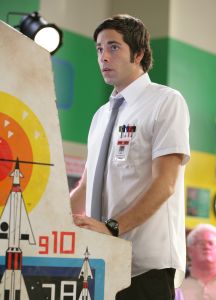 Chuck plays a classic arcade game.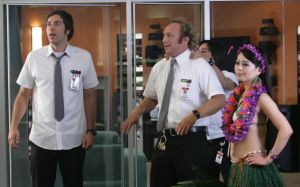 Chuck, Jeff and Anna react to something or someone.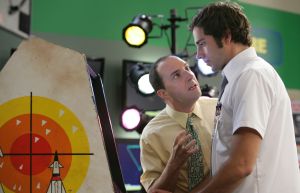 Chuck plays the arcade game as Emmett tries to distract him.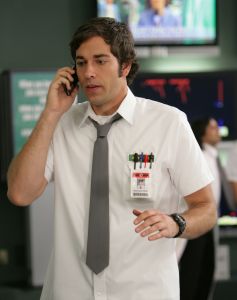 Chuck making one of his timely phone calls.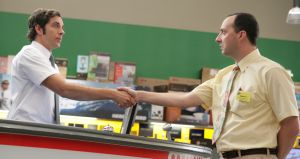 Chuck and Emmett shake hands.
[Perhaps this is when they first meet and Emmett is still "just" the efficiency expert.]

---
10/2/08:
Life in espionage takes its toll on Chuck and everyone is taking notice. Chuck tries to explain his unusual behavior to Ellie and to the quirky Buy More efficiency expert Emmett Milbarge (guest star Tony Hale), but a new assignment only complicates things. After a global terrorist comes searching for Jeff, Chuck is forced to socialize with Jeff in order to find out what role the oddball plays in the mission. Sarah, Casey and Chuck are all shocked when they discover that the fate of the world and the prevention of World War III rest in Jeff's hands.
From NBC
9/29/08:
Chuck goes undercover at a computer firm.
From TV.com
9/29/08:
Added Episode title.
From TV.com