Episode 208 Spoilers: Chuck vs. the Gravitron; 11/24/2008
11/6/08:
Chuck, Sarah and Casey are shocked to discover that Chuck's girlfriend Jill (guest star Jordana Brewster) is a Fulcrum agent in search of the Intersect. In the wake of his disbelief, Chuck is asked to use his relationship with Jill to get to an agent called Leader. He willingly agrees to bring down the woman who betrayed him twice. Meanwhile, Captain Awesome's parents are coming for Thanksgiving and Ellie is determined to have the perfect Thanksgiving dinner. To make sure everything goes smoothly, she tells Morgan that he cannot come to dinner this year. Without any holiday plans to fall back on, Morgan is recruited by Big Mike to stand guard at the Buy More with Lester and Jeff.
From NBC
11/3/08:
Chuck is taking Jill's lead at the carnival and she heads for the parking lot which was not part of the "plan." They run into a Fulcrum agent referred to as Leader who Chuck didn't flash on. Leader tells Jill that she has to kill Chuck to prove herself to Fulcrum, but she seems to hesitate. Later, Leader and Jill have Chuck in one cell and Casey and Sarah in another when the building goes into lockdown. Chuck has hacked into the computers and triggered the lockdown. He thinks he has the upper hand until Leader threatens to shoot set off a small bomb that would kill Casey and Sarah. Chuck reverses the lockdown and goes with Leader and Jill. After a few minutes, Casey and Sarah's cell also unlocks and there's a message from Chuck that he's taking Jill and Leader to the Buy More through the tunnels. Meanwhile at the Buy More security problems have led Big Mike to order Morgan, Jeff and Lester to stay there at night. They ditch and when the alarm goes off, Big Mike is notified. Big Mike ends up catching Leader, whom the police take away. Casey talks to the police, who are really agents.
From Casting Sides
11/1/08:
Selected Promo Pics from the episode: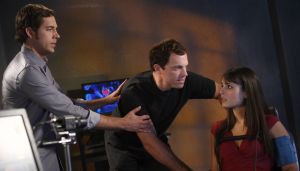 Casey is questioning Jill with the aid of some NSA gadget.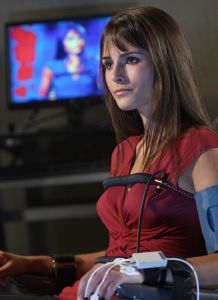 Jill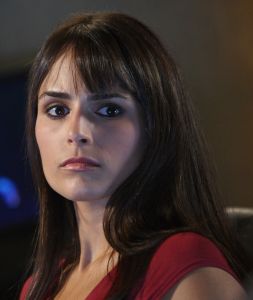 Jill again.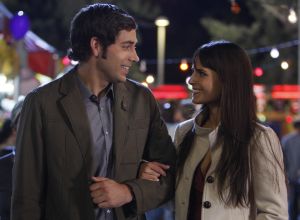 Chuck and Jill at the carnival looking normal.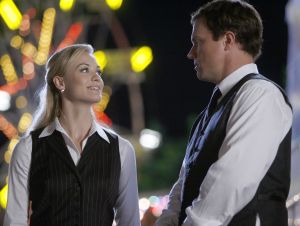 Sarah and Casey apparently undercover at the carnival.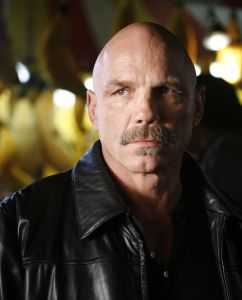 Leader. [the bad guy that is Jill's boss]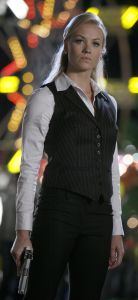 Sarah's looking armed and serious.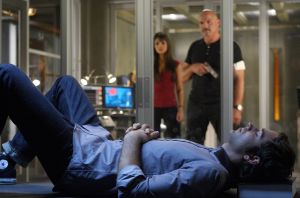 Chuck's locked up under guard by Leader with Jill looking on.

---
9/29/08:
Security issues at the BuyMore are tackled.
From TV.com
9/29/08:
Added Episode title.
From TV.com