Episode 212 Spoilers: Chuck vs. the Third Dimension; 2/2/2009
1/25/09:
Selected Promo Pics from the episode: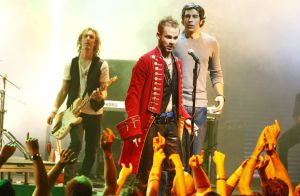 Chuck and Tyler on-stage at his concert.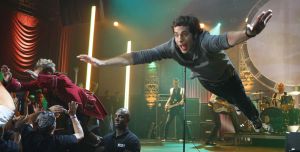 Tyler and Chuck go stage diving.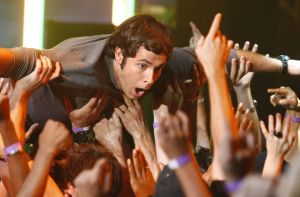 Chuck crowd-surfs.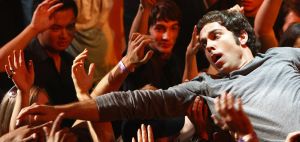 More crowd-surfing from Chuck



Casey shows his usual charm to yet another apparent bad guy as Sarah looks around.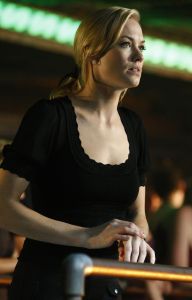 Sarah looks concerned.

---
1/23/09:
Chuck foils a plan to kill international rock star Tyler Martin (guest star Dominic Monaghan) leading Sarah and Casey to kidnap the musician to find out who wants him dead. When Chuck is left unattended with Tyler, the party animal rocker convinces Chuck to go out on the town, which only ends in a night of trouble. Meanwhile, Big Mike enlists Morgan to look out for his old football buddy Jimmy (guest star Jerome Bettis) who was just released from jail and hired at the Buy More. In the midst of Morgan's newly assigned duties, he wins a pair of backstage passes to Tyler's show and holds a contest in true Super Bowl fashion that pits Jeff against the formidable ex-con Jimmy.
From NBC
1/22/09:
Jerome Bettis appears as Big Mike's old football buddy.
From TV Guide
11/22/08:
According to executive producer Josh Schwartz, a scene in the blockbuster episode features "Chuck without his pants clinging to the outside of a glass elevator for dear life. I wouldn't say he's naked, but you might see some thigh."
From Ausiello
11/3/08:
Rock star Tyler Martin has showed up for a promotional in-store event at the Buy More when Chuck flashes on him. Casey tranquilizes him so they can question him. Later, Chuck finds Tyler treating an outdoor fountain as his personal bathroom. Chuck says that he's been hired by the record company to keep Tyler safe and he tries to talk Tyler into calling it a night. Tyler, however, decides that it's party time. He tosses Chuck's cell phone in the fountain and drags Chuck along for his night out. Tyler spins a story that Chuck writes his music, is a great bass player and an excellent lover. They encounter a room full of beautiful women, but Chuck knows that they are actually assassins. Chuck ends up in the room with them where he has one of his narrow escapes. The lead bad guy, Achmed, finally catches up to Chuck and Tyler. Chuck says that he knows that Achmed has been using Tyler's tattoos to pass secrets around the world. This leads to a standoff where Tyler has to save Chuck and they escape onstage with Tyler's band. Casey and Sarah capture Achmed. Casey tells Tyler that he'll have to get his tattoos removed and Tyler tells Sarah that he threw all kinds of beautiful women at Chuck, but that all he did was talk about Sarah. The episode is also filled with 3-D gags.
From Casting Sides
10/24/08:
Dominic Monaghan (
The Lord of the Rings
,
Lost
) has been cast as Tyler Martin, the "free-spirited British rock star targeted for death by a shadowy group of evildoers." Monaghan described the character as an "out-and-out lunatic" and a comedic role.
From EW
10/24/08:
This is the 3-D episode airing the night after the Super Bowl.
From EW
10/15/08:
Guest characters include Tyler Martin ("Late 20s/early 30s.Handsome Rock and Roll Superstar Musician, preferably British. "Bad Boy" type. Womanizer. Someone is out to kill him and CHUCK has to protect him from the "threat"...HUGE GUEST STAR"), Achmed ("40. A very handsome Libyan, dangerous...GUEST STAR") and Vixens (:25. Gorgeous, dangerous, brunettes. Think Bond Girls. Villainous. 5'7" or taller... CO-STARS").
From Casting Sides
10/15/08:
Added episode title.
From Casting Sides