Episode 222 Spoilers: Chuck vs. the Ring; 4/27/09
4/23/09:
Preview Clips can be seen here
4/23/09:
Sneak Peek #1 has Chuck and Casey walking into the BuyMore past Lester, Jeff and Big Mike before reaching Emmitt's office. Emmitt thinks Chuck is making a pass at him, but Chuck is there to quit. Casey simply says, "ditto" and they both leave.
From Preview Clips
4/23/09:
Sneak Peek #2 has Chuck and Casey over at the yogurt shop. Casey gives Chuck a check from the government for his service. Casey even gives Chuck his private phone number for "emergencies only." Chuck tries to give Casey a hug.
From Preview Clips
4/23/09:
Sneak Peek #3 has Chuck arriving at the church for Ellen and Awesome's wedding day. His father can be seen waiting in the sanctuary. Chuck goes to see Ellie who along with her bridesmaids is being fussed over by Awesome's mother. Ellie says that she would have been happy with a small wedding on the beach. Chuck tells her that he quit the BuyMore. As they talk, Sarah walks in and joins the other bridesmaids.
From Preview Clips
4/23/09:
Sneak Peek #4 has Chuck in the reception hall. He finds two bodies stuffed under a table. Ted Roark then appears and tells Chuck that he wants the Intersect Cube or he'll kill Ellie.
From Preview Clips
4/23/09:
Sneak Peek #5 has the wedding reception being held in the courtyard of the Ellie and Awesome's apartment. Ellie thanks Chuck for saving the day with a wedding on the beach and the reception. Awesome calls Chuck a hero. Chuck then talks to Morgan, who is still planning to leave for Hawaii.
From Preview Clips
[The first four clips look to take place early in the episode. The fifth clip appears to indicate that Roark ruins the big wedding, but is bested by Chuck. Then with the government's help, Ellie and Awesome get married on the beach like Ellie wanted. Sarah as well as Chuck and Ellie's father are present at the reception, so we're guessing that the 'gamechanger' somehow happens after this scene.]
4/17/09:
Selected Promo Pics from the episode: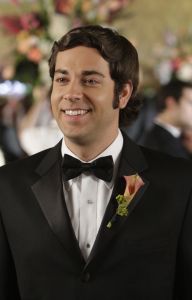 Chuck looking spiffy for the wedding.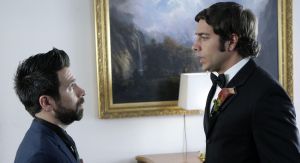 Morgan and Chuck have another heart-to-heart.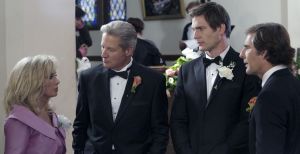 Chuck and Ellie's dad along with the Woodcombs.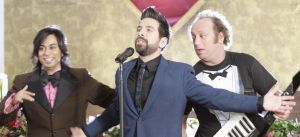 Morgan fronts Jeffster.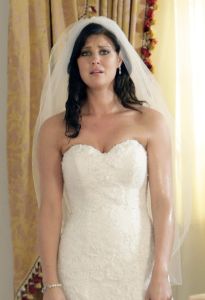 Ellie doesn't look happy.

---
4/11/09:
"Ellie discovers [Chuck's] secret when Fulcrum disrupts her big day."
From TV Guide
4/4/09:
CHUCK MUST SAVE HIS SISTER'S WEDDING AND HER LIFE - When Ellie and Awesome's wedding day finally arrives, Chuck must save Ellie's life and her big day from being ruined by Ted Roark (guest star Chevy Chase) and Fulcrum.
From NBC
4/1/09:
Added Episode Title.
From NBC
3/3/09:
Chuck's father (Scott Bakula), Ted Roark (Chevy Chase) and the Awesomes/Woodcombs (Bruce Boxleitner and Morgan Fairchild) all appear.
From io9
2/14/09:
Fulcrum's plan to steal the Intersect has not gone according to plan, and now "the Elders" are pissed. Ted Roark is in the hot seat, but he assures the Elders that he has something else up his sleeve. Ellie and Awesome's huge wedding is in danger of falling apart, but Chuck is determined to give his sister the wedding day of her dreams. Meanwhile, General Beckman is called into a meeting with several other generals and government brass to report on the Fulcrum situation and the status of the new Intersect. Her people have the situation under control and Agent Walker will soon be on her way to her next assignment with a very familiar partner. Will everything go according to plan? Will Chuck finally get to live a "normal" life? And who are the Elders?
From ChuckTV.net
[This could be bogus, but the Elders might be part of the game-changer.]
2/7/09:
According to Josh Schwartz, "When the season ends, there will be a major revelation at the end of the season and it changes the show."
From IF Magazine Interview
1/22/09:
Jill will be back for the season finale.
From Ausiello