Episode 214 Spoilers: Chuck vs. the Suburbs; 2/16/2009
2/14/09:
Selected Promo Pics from the episode: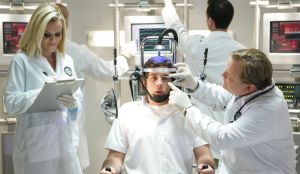 Brad and Sylvia, now revealed to be Fulcrum agents, have strapped in Chuck to watch the Dark Intersect.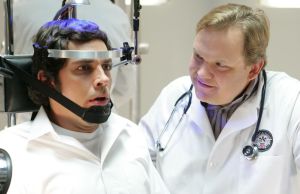 Brad and Chuck.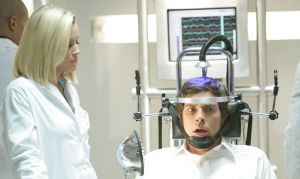 Sylvia observes Chuck as he presumably watches the Dark Intersect.

---
1/23/09:
Chuck and Sarah's latest assignment forces them to pose as a happily married couple living in the suburbs. They meet some interesting characters including Brad (guest star Andy Richter), a cheerful next-door neighbor in the stationary business, and Sylvia (guest star Jenny McCarthy), a seductive and attractive woman who lives across the street and has her eye on Chuck. Meanwhile, Big Mike is on a work rampage after his wife files for divorce, so the Buy More gang sets him up on a dating website to keep him distracted.
From NBC
1/3/09:
The Dark Intersect is part of a three episode arc starting in episode 214.
From Ausiello
11/6/08:
Andy Ritcher and Jenny McCarthy have been cast as some of the neighbors.
From Kristin
[We're betting that McCarthy will be the one who manages to handcuff Chuck to her bed.]
11/3/08:
Chuck and Sarah go undercover in a suburban neighborhood as a married couple in order to find out which of their new neighbors is a Fulcrum agent. Meanwhile, Jeff and Lester set out to hook up Big Mike with a girlfriend. Big Mike is set up with a sexy Latina woman and they get along famously although they both lie to each other. When Big Mike admits that he doesn't own a shipping company, but rather is the manager of the Buy More, the woman admits that she has a grown son that works at the same Buy More. It turns out that she's Morgan's mother. Back in the suburbs, Chuck ends up handcuffed to a bed by one of the neighborhood's desperate housewives. He manages to escape and finds a computer where he views images that resemble the Intersect only "darker." it turns out that the entire neighborhood are bad guys that were part of an abandoned spy program. Chuck is the first to survive their test, so they strap him in and force him to watch the "Dark Intersect" again as Casey and Sarah are forced to watch. However, Chuck collapses as he watches, apparently unable to handle the Dark Intersect after all.
From Casting Sides
10/24/08:
Guest character: Bolognia ("Female, 45, Latina, attractive, described as a "Red Hot Mama." Could be voluptuous, but not necessary. Accent is okay...ONE-DAY GUEST STAR").
From Casting Sides
10/24/08:
Added episode title.
From Casting Sides