Episode 216 Spoilers: Chuck vs. the Lethal Weapon; 3/9/2009
3/8/09:
Selected Promo Pics from the episode: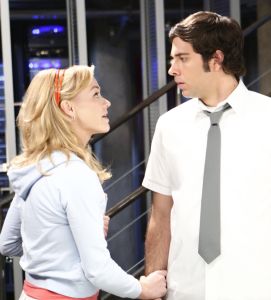 Chuck and Sarah seem to be having an animated discussion in the base.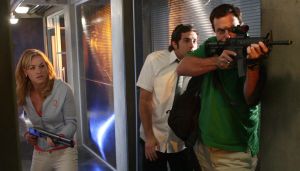 Chuck, Casey and Sarah are armed and ready.
[Based on Casey and Sarah being in their undercover uniforms, this is in the base.]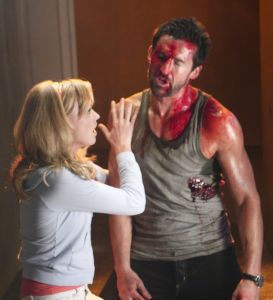 Cole and Sarah
[Cole looks rough, but has somehow made it back to the base.]

---
2/17/09:
Chuck and Cole have to team up to save Casey and Sarah, only to find themselves competing to see if they can "out-hero each other" to rescue their teammates.
From SciFi Wire
2/14/09:
Because the 2/9/09 episode was pre-empted by President Obama, this episode has been moved back a week.
2/14/09:
CHUCK MUST DEAL WITH THE THREAT OF FULCRUM'S OWN INTERSECT AND LOSING SARAH TO COLE - Chuck, Sarah and Casey learn about a man called "Perseus" who is behind Fulcrum's plans to build their own Intersect. While Sarah and Casey are sent to find Perseus, Chuck and Agent Cole Barker (guest star Jonathan Cake) are forced to stay in a safety bunker. When the mission takes a dangerous turn, their orders to stay out of harm's way go out the window. Meanwhile, Morgan tries to convince Anna that moving in with him would be a bad idea.
From NBC
1/31/09:
Appearing in two episodes, Cole Barker (Jonathan Cake) is the handsome British spy who "captures Sarah's fancy" and that she has to seduce.
From Chicago Tribune
1/18/09:
Robert Picardo says there's "a very big story arc about who created the "Intersect... I figure heavily into that story. There are lots of cool surprises and twists coming up."
From TV Guide
[Doesn't Robert Picardo seem like he easily could fit the description of Howard Busgang from the casting sides below? Busgang seems like he just might be the man behind the Intersect.]
1/3/09:
The Dark Intersect is part of a three episode arc starting in episode 214.
From Ausiello
11/14/08:
Guest characters: Howard Busgang ("(45) Balding, short, BRILLIANT. A research scientist for the Dept. of Defense...GUEST STAR"), Duncan ("(35) Cold, steely, an evil killer...GUEST STAR") and Paolo ("(45-50). The Italian Minister of Trade. Attractive father of 3 children. Womanizer. Speaks with an Italian accent. May be required to speak Italian...CO-STAR")
From Casting Sides
11/14/08:
Added episode title.
From Casting Sides