Episode 219 Spoilers: Chuck vs. the Dream Job; 4/6/2009
4/4/09:
Selected Promo Pics from the episode: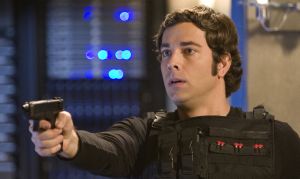 Chuck appears to have taken Cole's advice and is now carrying a gun.



Looks like someone tranq-ed Casey in the command center.
[Was it Chuck?]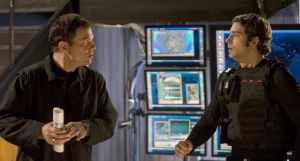 Casey's got something that Chuck wants.
[Might that be Chuck's Intersect scematics that Casey's holding?
And might this be why Chuck points his gun in pic #1 and Casey is tranq-ed in pic #2?]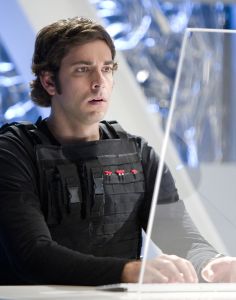 Chuck working a computer in Fulcrum's base[?].



Ted Roark, Chuck's dad and the Fulcrum assassin.
[Didn't we last see the Fulcrum assassin getting shot in 217?]

---
3/22/09:
THINGS ARE LOOKING UP FOR CHUCK WHEN HE FINDS HIS FATHER AND LANDS HIS DREAM JOB OR SO HE THINKS - Chuck's life seems to be coming together: his long-absent father Steve has returned and he's landed his dream job with his hero Ted Roark. Unfortunately for Chuck, neither turns out to be quite what he expected.
From NBC
3/8/09:
Added episode title
From SpoilerTV
3/3/09:
Sarah uses government resources to help Chuck find his father.
From io9
1/18/09:
[Originally posted to General Spoilers.]
Scott Bakula has been cast as Chuck and Ellie's dad. Chuck promises Ellle that he'll find their father before her wedding and "it's something that Chuck becomes consumed with pursuing during the second half of the season." However, Dad doesn't seem like he wants to be found. According to Josh Schwartz, "He's living in a trailer, he's disheveled, he's paranoid and he's claiming constantly that Ted Roark -- who he used to work with -- stole all his ideas from him. And Ted Roark has now become this super-successful software billionaire, and Chuck's dad has become an eccentric, living in the shadows." Bakula is set to play the role in at least three episodes starting in April.
From Ausiello
[Though we can't be sure, we're guessing that this three episode arc will lead up to the season finale and Ellie and Awesome's wedding.]