Episode 211 Spoilers: Chuck vs. Santa Claus; 12/15/2008
11/22/08:
Christmas Eve does not go as planned when an amateur criminal on the run from the police crashes into the Buy More and takes Chuck, Ellie, Awesome and the rest of the Buy More gang hostage. In order to protect Chuck's cover and the safety of the other hostages, Sarah and Casey secretly go in to the store to remove Chuck, but the mission quickly falls apart when Chuck refuses to leave his friends and family behind.
From NBC
11/18/08:
Added episode title.
From NBC
11/18/08:
Selected Promo Pics from the episode: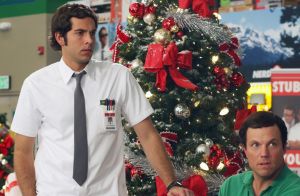 Chuck and Casey.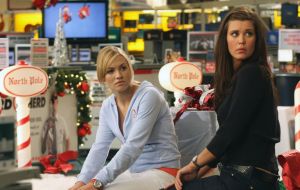 The women in Chuck's life: sister Ellie and Sarah.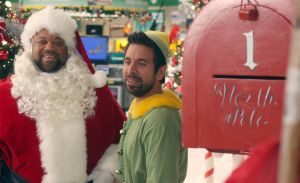 It Big Mike Claus and Little Elf Morgan.



Chuck and Casey and again.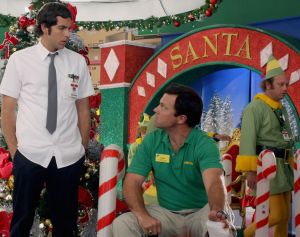 Chuck and Casey with Casey's bandaged foot in sight.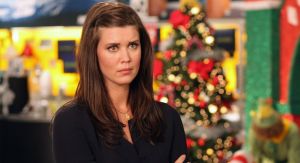 Ellie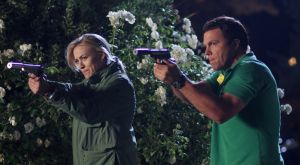 Sarah and Casey outside, guns drawn.
[Notice that Sarah's wearing a jacket just to remind us that its wintertime, but how often does it get cold enough for a jacket in Southern California in December?]

---
11/3/08:
A car chase results in the suspect crashing into the Buy More. Ned, the suspect, takes everyone hostage. As Manager Big Mike and Assistant Manager Emmett cower, Chuck steps up and helps calm Ned. Chuck helps Ned with his gun and Casey ends up "accidentally" getting shot in the foot. When the hostage negotiator Lt. Mauser shows up, he arranges for two hostages to be released are Casey and Sarah. Chuck realizes that he's getting isolated from his protectors and reacts to the news of Sarah's release. Everyone else is shocked at his behavior since he seems to upset that his girlfriend is being sent to safety. Chuck realizes that Ned and the hostage negotiator, Lt. Mauser, are both Fulcrum agents and that the hostage situation has been staged by Fulcrum in order to find out who or what is being protected by the government at the Buy More. Before she's released, Chuck had given Sarah his mother's charm bracelet as a Christmas present to show how much he cares about her. Lt. Mauser threatens to shoot Ellie unless Chuck tells what is going on. He agrees to and asks if he can tell Ellie goodbye. An ambulance arrives to take Chuck to a Fulcrum facility and finally Casey and Sarah figure out that it's been a Fulcrum plot all along.
From Casting Sides
10/12/08:
The employees of the Buy More along with Sarah, Ellie and Awesome are held hostage by Ned. Casey is injured and reluctantly agrees to be one of the first hostages traded. Awesome draws up a plan to take out Ned, but Chuck tries to talk him out of it. Chuck eventually realizes that someone in the mix is Fulcrum and is trying to find out just who at the Buy More is under government protection. Meanwhile, Morgan has to win back Anna's affections and Chuck gives Sarah a gift that shows just how much he cares for her.
From ChuckTV.net
9/29/08:
The "team" is held hostage on Christmas Eve.
From TV.com
[This is the Christmas episode.]